Not done much since last post, just pestered people and watched Most Haunted and Heroes.

Tonight I'm gonna add to the archive (cause I've not done it since the end of January) as well as watch Wonders Of The Solar System.

So I said I was thinking of doing a mini primer thingy of the main bands I write, so here it is. It'll only be brief, with a picture, descriptions and a link to a vid.

Bring Me The Horizon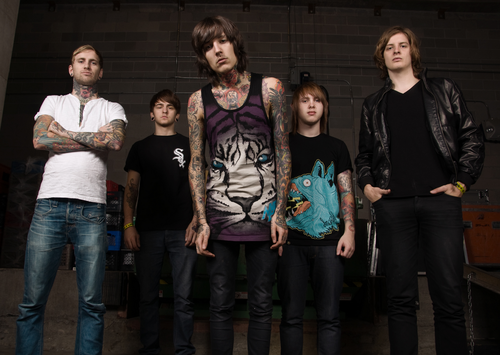 Members l-r: Jona Weinhofen (guitar), Matt Nicholls (drums), Oli Sykes (vocals), Lee Malia (guitar), Matt Kean (bass). Associated people: Curtis Ward (ex-guitarist), Tom Sykes (Oli's brother)
Vid link: Chelsea Smile
Info: Bring Me The Horizon are a metalcore band, mostly from Sheffield (Jona's from Australia). They've toured with The Blackout and Lostprophets. Oli runs a clothing label called Drop Dead with his brother. He's heavily tattooed, with tattoos covering most of his body. One of them, on his leg, is of a cock. Matt Nicholls also has tatts, though not as many as Oli (including a triforce and a lightsaber through his neck!) He is known to drum topless or naked. Jona was in I Killed A Prom Queen before joining the band (that ends my knowledge of him). Matt Kean has a twitter, which is generally amusing. Lee's the shortest member and he rarely speaks as he's shy.

Bullet For My Valentine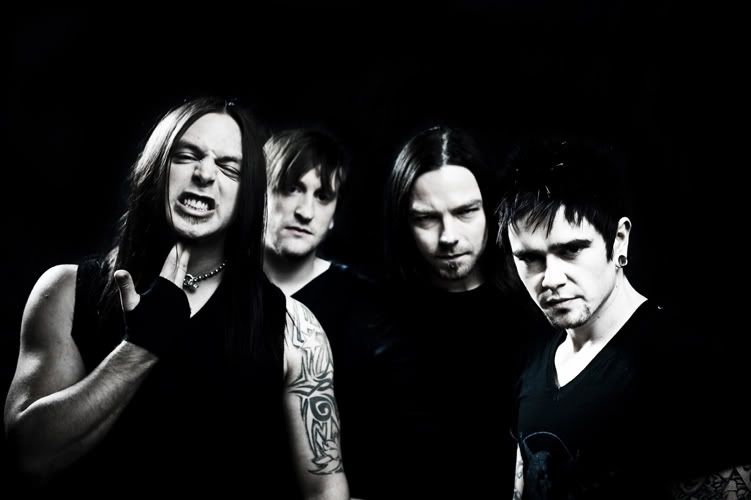 Members l-r: Matt Tuck (vocals, guitar), Moose (drums), Padge (Guitar), Jay James (bass, screaming) asssociated people: Calvin (roadie/tech)
Vid link: Waking The Demon
Info: Bullet For My Valentine are a metal band from Wales. They're all known for their drinking. Matt's the band's main spokesman. He has a cat called Gus. Moose and Padge are starting a clothing line, though not much is known yet. Moose is known to wank a lot and also often wears hats. Padge is the band's main drinker. He has a guitar teaching dvd out. Jay is the most softly spoken member of the band, with the quietest speaking voice (despite doing the screaming). He has a lizard tattoo on his back and tattoos on both his arms.

Fightstar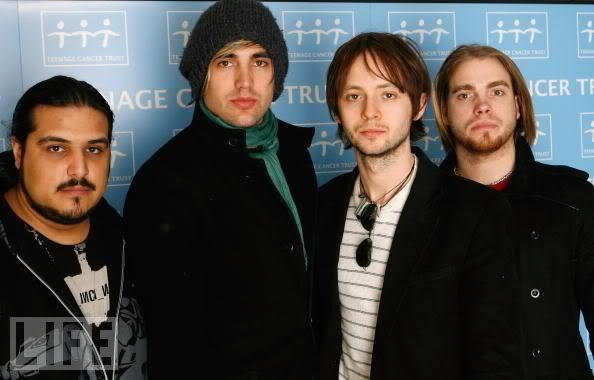 Members l-r: Omar Abidi (drums), Charlie Simpson (vocals, guitar, piano), Alex Westaway (guitar, vocals), Dan Haigh (bass)
Vid Link Deathcar
Info: Fightstar are a uk rock band. Charlie was in the pop band Busted, before leaving and forming Fightstar. Alex and Dan have wrote and directed a film, In God We Trust which also stars Charlie and will be released later this year. Dan edits the band's dvd footage. Like Bullet, they're also known for getting drunk. At the Kerrang awards, they wrapped Charlie up in bandages even though he was the presenter of the awards tv footage.

Lostprophets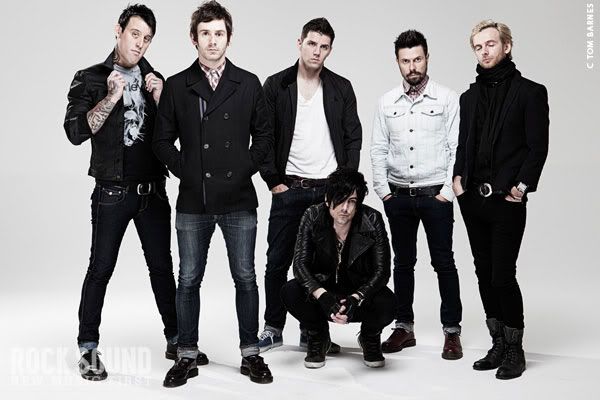 Members l-r: Luke Johnson (drums), Mike Lewis (guitar), Stuart Richardson (bass), Ian Watkins (vocals), Jamie Oliver (keyboards), Lee Gaze (guitar) Associated people: Ilan Rubin (ex-drummer)
Vid: It's Not The End of the World But I Can See It From Here
Info: Lostprophets are a rock band from Wales (apart from Luke). Ian has his own clothing line, Made In Hell. He has seevral tattoos, most notably guns on his hips. He can also play drums. I'm gonna leave it there, since I'm less familiar with the others (in part due to interviews being mostly Ian focussed).

Madina Lake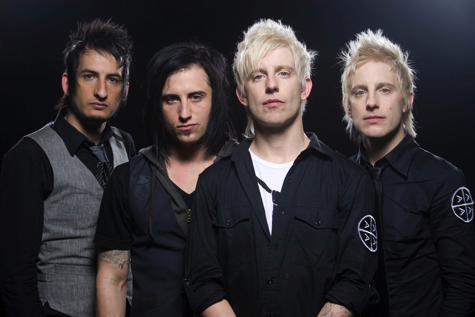 Members l-r: Mateo Camargo (guitar), Dan Torelli (drums), Nathan Leone (vocals), Matthew Leone (bass)
Vid: Let's Get Outta Here
Info: Madina Lake are an American rock band. Matthew and Nathan are twins from Chicago. Originally the main difference between the twins was their hair, howeevr now it's mostly that Matthew is thin and has a mole on his cheek. Mateo's from Columbia. Dan is into pirates and even has a tattoo. The twins appeared on Fear Factor in America and, when they won, they used the money to record. Before forming Madina Lake, the twins were in were in a band called The Blank Theory and Mateo and Dan were in Reforma. They became friends and then formed Madina Lake. The abnd are known for being extremely energetic when they perform, Matthew especially.

The Blackout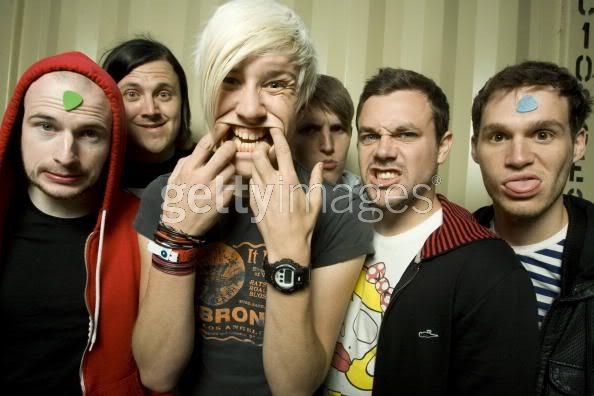 Members l-r: James Davies (guitar), Gareth Lawerence (drums), Sean Smith (vocals), Matthew Davies (guitar), Gavin Butler (vocals), Rhys Lewis (bass) Associated people; Jay Smith (Sean's brother/merch guy)
Vid: Children Of The Night
Info: The Blackout are a rock band from Wales. Sean is known as being a bit of a boy slut kissing Ian, Charlie and Matt from From First To Last. Most interviews are often focussed on Sean. According to Alex from All Time Low, Sean has huge balls. James is also known as Bob and Gareth as Snoz. Although they share the same last name, Matthew and James are unrelated. They often tour with fellow Welsh and British bands. Rhys is implied to be kinky and have a sex dungeon. He's also the one that gets most drunk.

The Used


Members l-r: Quinn Allman (guitar), Jepha Howard (bass), Bert Mccracken (vocals, piano), Dan Whitesides (drums) Associated people: Branden Steineckert (ex-drummer)
Vid: Blood On My Hands
Info: The used are a rock band from America. Bert is known to have done drugs, dress in drag and kiss boys. He's also down a pilot for a cooking show, but his overuse of swearing meant it won't be shown. Jepha is heavily tattooed, including a typewriter on his chest. Quinn used to have blonde hair and was known for getting naked. Dan likes to film the guys and he was a big fan before joining. There's been implied a relationship, with them saying their first meeting led to sex. The band used to be on good terms with MCR though, for reasons unknown, they fell out.

Wow, that took longer then I expected. Hope it was semi-informative.