This is the Sonisphere post. It may or may not be long and it does have pics of me (wah!).

So it all started on Friday. Travel went ok, but oddly there was more money again. Scary. Claire missed the coach (but she got there before us causa train) and the coach itself had wrong music. On the way in, we saw bunnies.

The camp was closer to the venue then at Download and we ended up moving the tents even closer, so we were practically outside the main entrance. The venue beyond (and the stalls etc) was smaller then Download. It was perhaps half the size at most. People yayed over us wearing BMTH and Drop Dead tee's, which was cute. I got one Bullet tee that day, with a skull and the date on the back.

The night, as always in a tent, was an iffy sleep.

We got panini's on the Saturday morning, which were nice. It was randomly raining over the day (the worst of it at the singing tent) which was eh. Damn the merch tent only ever having 2 The Used tee's.

Sadly, there wasn't the promised Bullet signing at all. That makes me sad. I want a picture with Jay damnit!

The first band we saw was Alien Ant Farm, who were ok. They were an odd choice though, since they've not really been active in years properly. At least they played Movies.

There was a gap, which we spent at the tent. I got another Bullet tee (with a blood splatter) and I got the USB wristband and neck thing with the times on.

We saw The Used, who were pretty good. There were massive bubbles floating around during the set.

Flood Of Red sounded pretty good too.

We then went to The Used's signing, which is when it rained more (bah). I got my cd/dvd of Lies For The Liars signed and got pics with theme all. I was only gonna get one with Dan, but the girls in front got ones with all of them so I figured what the hell. Dan was adorable and stood for the whole signing (cause it seemed a load of people wanted pics with him), Quinn looked bewildered and Jepha and Bert looked stoned (especially Bert since it took a few seconds for him to realise I was even there). I'm sure I high fived one of them or something, but I've blanked on which.

I intended on writing a Bert/Jay fic, but I'll probably do a Jay/Dan one causa his awesomeness. And big hands.

Next were Bullet, who were awesome. However, the mics played up a lot, giving feedback and all that shit. Jay singing is awesome and adorable and he looked good. I didn't notice he wore the same outfit as in America (or that Matt wore wellies) till I saw pics. I'm sure Jay and Padge were freezing. Matt said that we should all say fuck you to the clouds and rain, so we did. Jay spoke and told us to get out lighters/phones up. His speaking voice is one of the most adorable things ever! As I sung along I'd falter the second the screen flashed to Jay.

We were on Jay's side too, but cause we were far back he was hard to see causa heads in the way. They played a new song, which made me squee and I thought it was awesome. Perhaps best of all (after that) was that Matt got on his knees in front of Padge. Fuck I hope someone caught that pic, as they were my first Bullet pairing (now most involve Jay cause... he's hot). As Jay headbanged, he sorta kept shaking his head adorably. Jay almost hot Matt in the face with his bass, which amused me. Perhaps cause of the mic, Matt was hard to understand to me. He also must have spotted a Welsh flag cause he commented on beautiful Wales.

After them was Linkin Park. The sky turned a pretty sorta red/orange during the start. I spent most of the set cold (cause I wore my Bullet shorts and didn't change) and with tired legsies. Chester did a promo of Dead By Sunrise, which would've been ok but it was about 3 songs. They played all of the singles and other good stuffs.

Again, there was eh sleep. Sunday was a more iffy day overall, though the weather was much better. During the night, Claire lost her cam, which sucked.

We saw Buckcherry while we ate. Not my thing really.

We sat and waited for Dear Superstar, while watching people play frisbee (which resulted in the security chick laughing and having to get it from behind the fence). Dear Superstar were ok, but they didn't play LiveLoveLie aka the best of their songs (and Jay's).

We went to see Attack! Attack! who were awesome. Oddly, most of the set lsits and signing tent info missed out the !'s which was annoying. They played Honesty which always makes me happy cause it's my fav. Ryan referred to his hangover (which was caused by The Blackout the night before, sexytimes much?).

I got two more tee's from a nearby stall, a Bulelt one and a The Used one, cause they were cheap.

The 'special guests' on the main stage turned out to be Machine Head. They're not special, they're jsut the original people. How did they solve the stupid massive fuss that Robb made?

Anyway, we went to the Attack! Attack! signing and I got a pic with Ryan.

Limp Bizkit were pretty good too. Not much to say really. Not too fond of what I heard of Cancer Bats though.

We saw Nine Inch Nails, who sounded good. Though yeah, I listened for Ilan who sounded awesome and was so pretty the few times he was shown. To anyone that doesn't know him he's like a 20 year old mini Ray who can play like 5 instruments. He's awesome.

The Blackout were somewhere (well, 3 of them were) and so were Bullet. If I knew Matt was the judge of the Jackson thing I'd have gone to see, but oh well.

Avenged weren't as terrible as I expected, though Zacky has awful hair. We only heard a song or two properly. Like I said, we saw Metallica but I don't see the big deal at all. Yeah, they can play their stuff and everything but... I just don't like em much.

Last night was bad sleep and we had to wait awhile for the coach, but travel back was straightforward so...

Overall, not as good as Download but it was good. Coulda been better, especially if there was a few more bands we'd wanted to see.

We've had DOmino's pizza tonight, which was nom! But I only ate half of mine before being full.

Enough rambling, now picture time!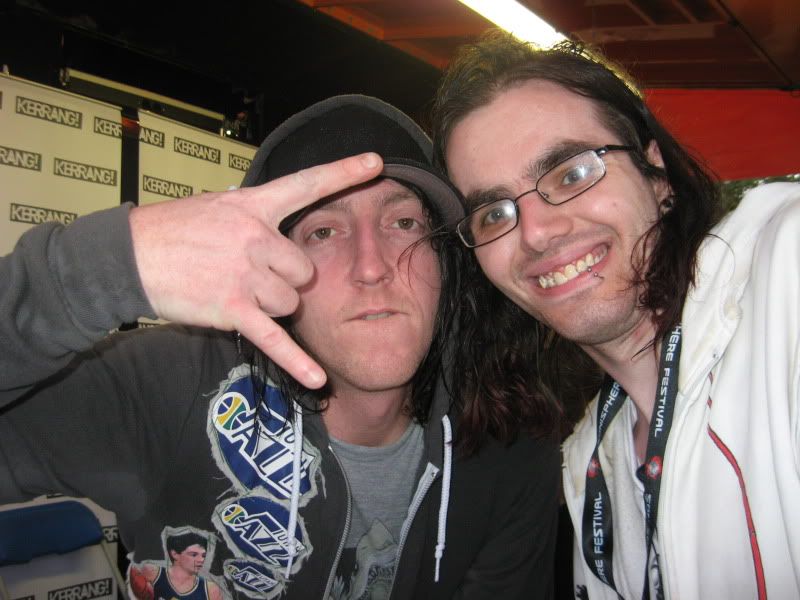 Dan! He kept wiggling his finger in front of me, hence my dopy grin



Quinn!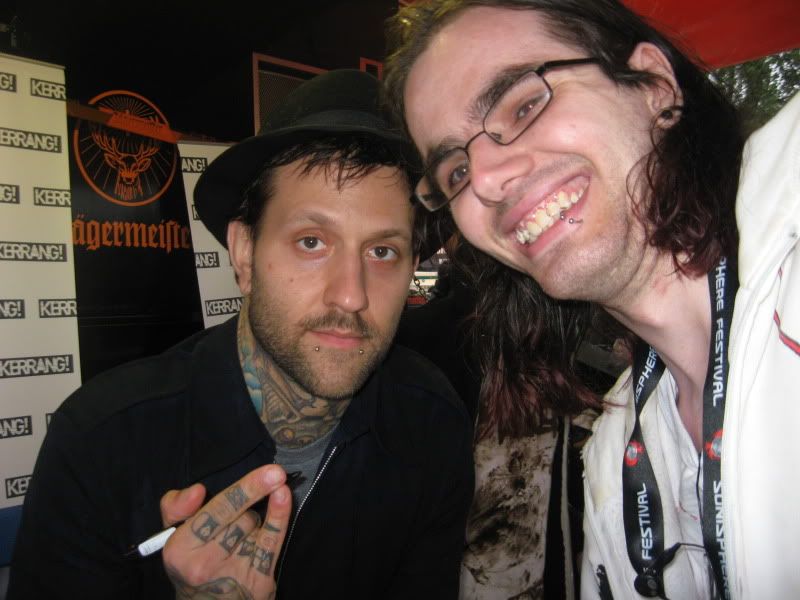 Jepha!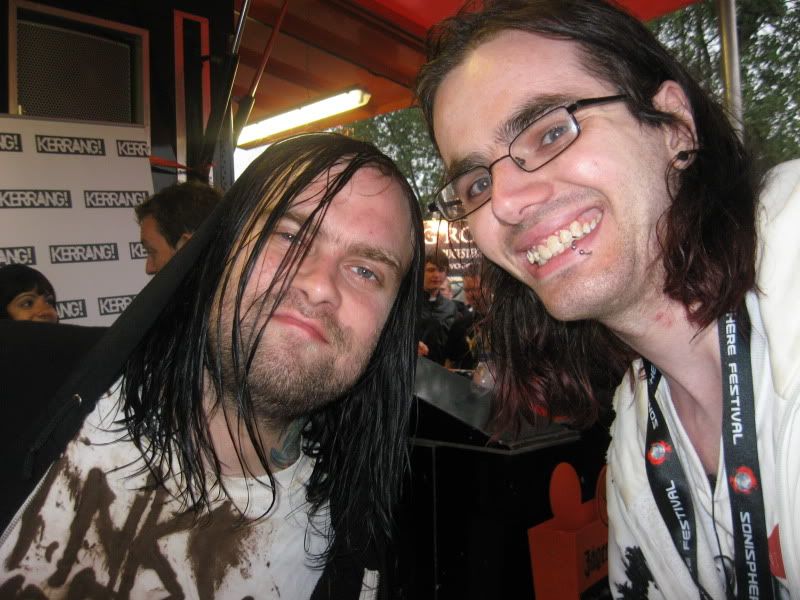 Hobo druggy... I mean Bert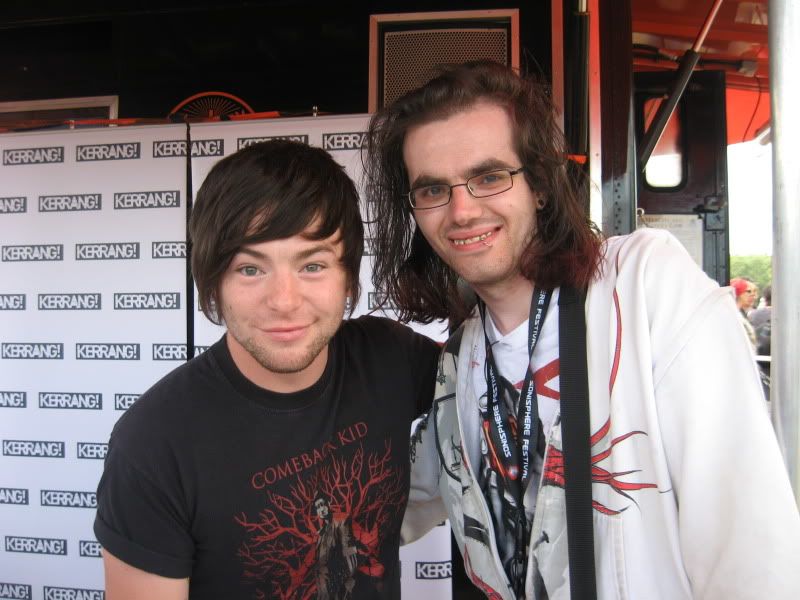 Ryan from Attack! Attack! He's so ickle!



Jay Smith! With a random dead glow stick thing that looks... pervy. He's so tall!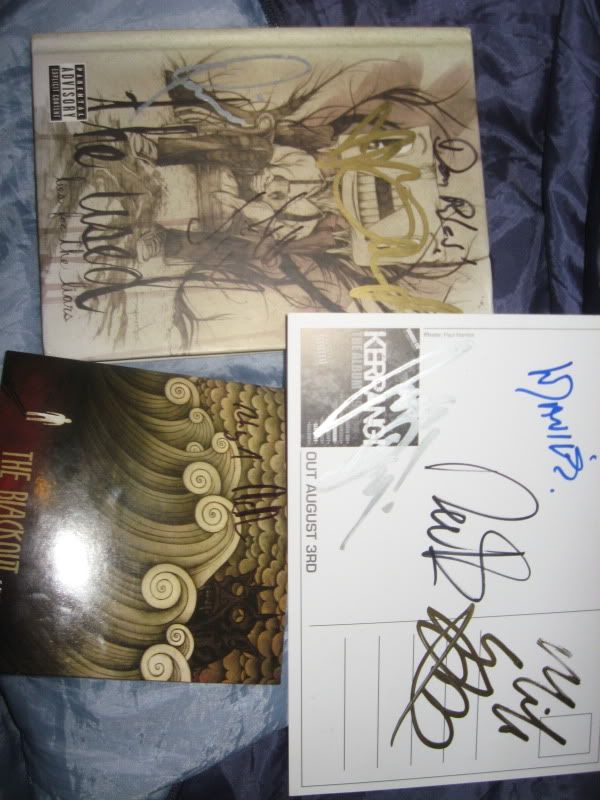 Signed stuff. The Blackout's single, with only Rhys and Matthew's sigs. The Used's album (I love Dan's sig of Dan rules!) and a random Kerrang postcard with Attack! Attack!'s sigs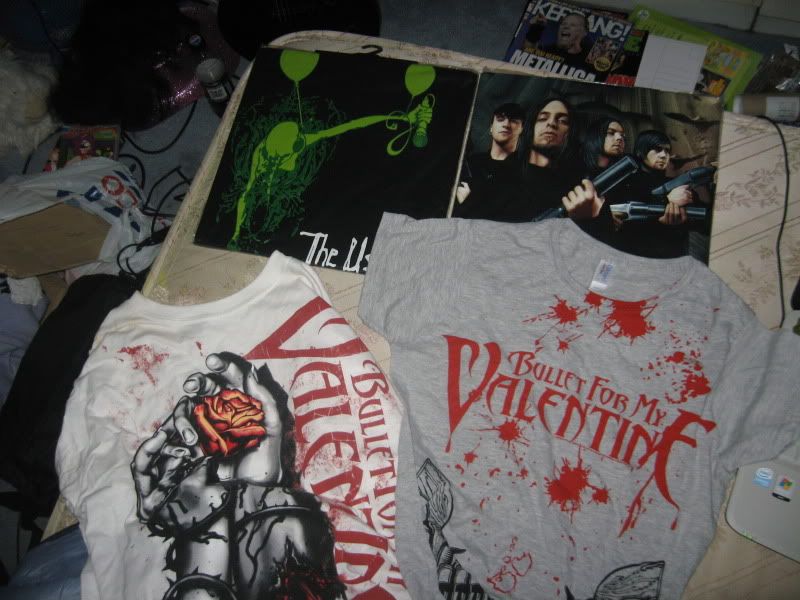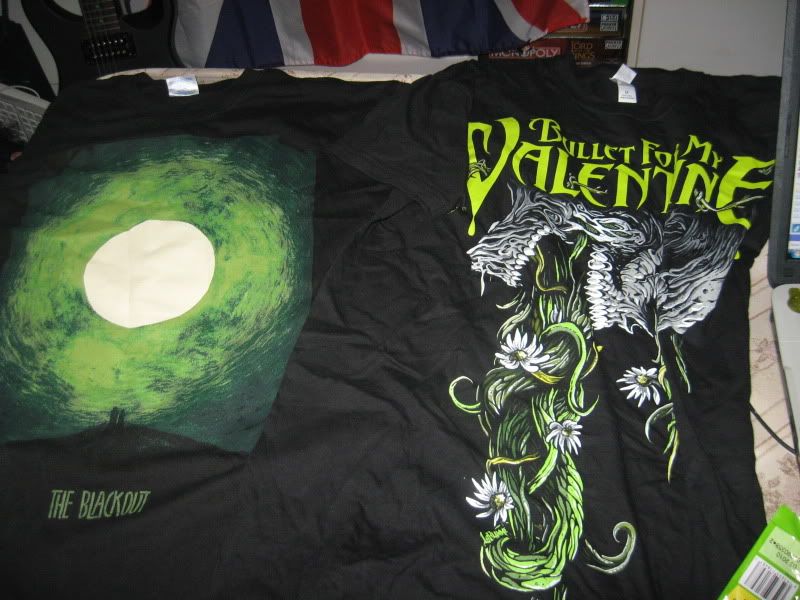 The tee's. The white one I got from HMV and wore there. It's awesome right?



End with a random Mikeysaur pic