So I'm home again, mostly cause my head hurts like hell. A shower didn't help.

Mum's coming with me when I get the Apocalyptica ticket Friday to do the birthday thing. It'll be Mcdonalds and getting stuff, maybe a figure, cd or dvd of some sort.

I'm working on finishing the Sean/Gavin fic, though it's a bit hard to remember where I was actually wanting to be going with it. I'm pretty much making it up as I go along now and hoping it's the direction I originally intended.

I've randomly been watching Will And Grace.

I really wish I knew where my Empire At War code was.

Mum'll be gone soon so... I dunno what I'll be doing.

Sarah Jane was on last night and it made me just wanna give her a hug. That and to steal Luke.

A random thing ahoy on various bands. Cause they're cool and need more recognition.

British bands

Brigade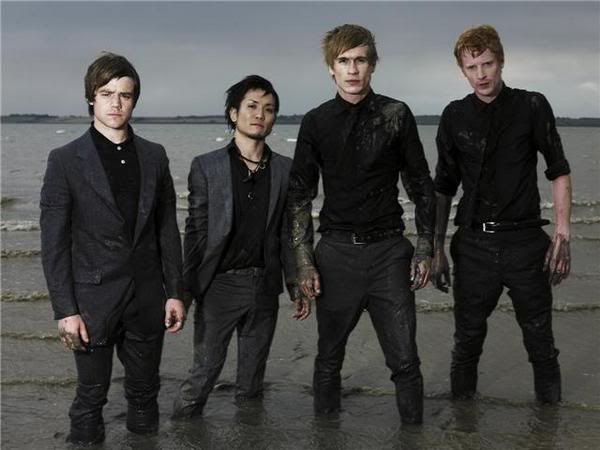 Bandmembers: Andrew Kearton (drums), Naoto Hori (bass), Will Simpson (vocals, guitar), James Plant (guitar, vocals)
Place of origin: England
Genre: Rock
Notes: Will is the brother of Charlie (I've meant to do something with them, but never did).
Slashy potential:

Bring Me The Horizon


Bandmembers: Lee Malia (guitar), Matt Nichols (drums), Oli Sykes (vocals), Matt Kean (bass), Curtis Ward (guitar)
Place of origin: Sheffield, England
Genre: Screamo
Notes: This is the only band on the list I don't like (cept a cover they did). Oli's voice is extrememly hard to understand onstage. Oli has a brother called Tom and they only the clothing label Drop Dead (which several other bands wear, including Ian and Sean). Oli's also a vegetarian.
Slashy potential: Oli has licked Ian and gotten close with Sean. There's also the recent Rock Sound shoot with Matt.

Bullet For My Valentine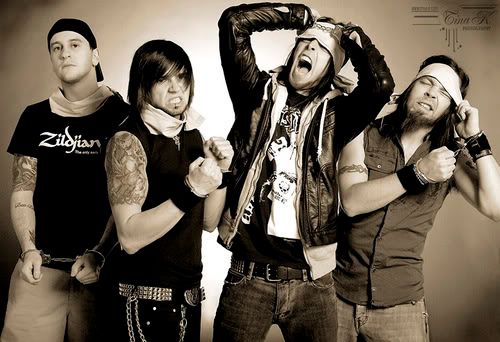 Bandmembers: Michael 'Moose' Thomas (drums), Jason 'Jay' James (bass), Matt Tuck (vocals, guitar), Michael 'Padge' Paget (guitar)
Place of origin: Bridgend, Wales
Genre: Rock, metal
Notes: I won't ramble about how pretty Jay is. They've won loads of awards and done plenty of festivals. Their last album got into the top ten album chart.
Slashy potential: Plenty, it's just people seeme to have missed it entirely. There are so many pictures and perverted moments, that I won't even begin to list them. Most are probably caused my their penchant for getting drunk (especially Padge) although Jay's now off the drink. Matt appears to be into scat.

Fightstar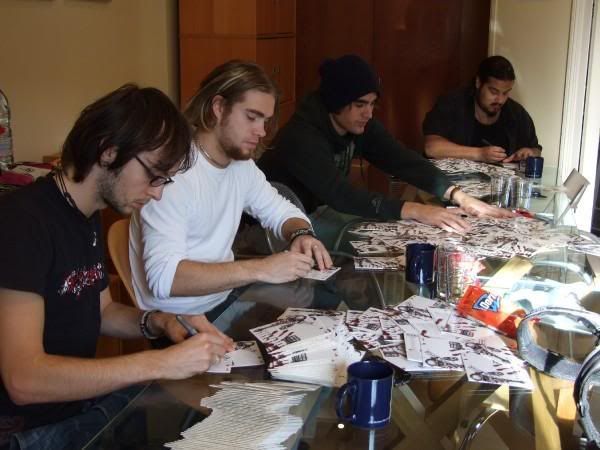 Bandmembers: Alex Westaway (guitar, vocals), Dan haigh (bass), Charlie Simpson (vocals, guitar, piano), Omar Abidi (drums)
Place of origin: England
Genre: Rock
Notes: Charlie was in a band called Busted before Fightstar (although it's pretty much forgotten now). The video for Deathcar is very hot and bloody.
Slashy potential: Not as much as the others sadly. There seems to be hardly any around.

Lostprophets


Bandmembers: Jamie Oliver (keyboards), Ilan Rubin (drums), Mike Lewis (guitar), Stuart Richardson (bass), Lee Gaze (guitar), Ian Watkins (vocals)
Place of origin: Wales (bar Ilan, he's American)
Genre: Rock
Notes: Ilan's the sole member of The New Regime. Ian owns the new clothing label Made In Hell.
Slashy potential: Loads with Ian and Sean (mentioned later). Ian said he helped Ilan with his hand work when he just joined. Ian seems to have been pretty close with the Way's and Bert too.

The Blackout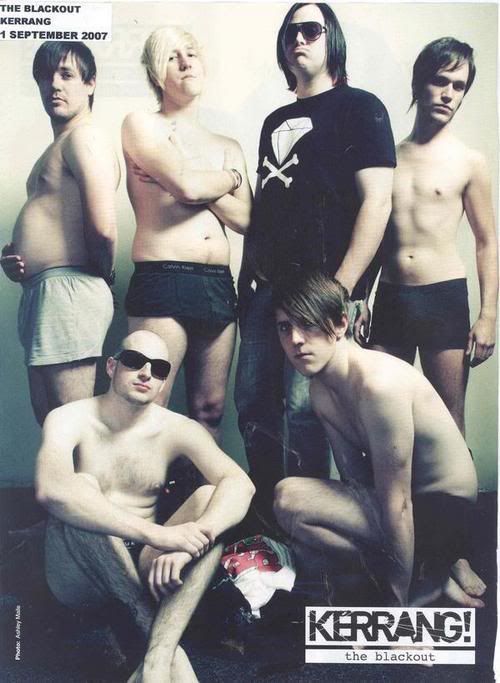 Bandmembers: Gavin Butler (vocals), James Davies (guitar), Sean Smith (vocals), Gareth Lawerence (drums), Matthew Davies (bass), Rhys Lewis (guitar)
Place of origin: South Wales
Genre: Rock
Notes: I've no idea if James and Matthew are related. They've toured with Lostprophets and The Used.
Slashy potential: Sean seems to be a bit of a manwhore, kissing FFTL's Matt, Ian. Sean once said he's favourite sex act involves anal and he has a badge saying he < 3's it. Matthew appears to pine for him, often watching him while they play. Sean also has mutiple tee's supporting same-sex marriage.

Non-British bands

Apocalyptica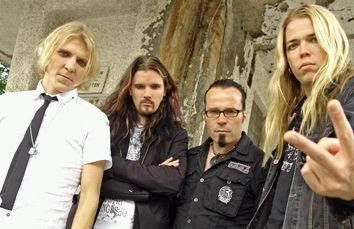 Bandmembers: Mikko Siren (drums), Perttu Kivilaakso (cello), Paavo Lotjonen (cello), Eicca Toppinen (cello)
Place of origin: Finland
Genre: really, really hard to define, though they're often classed as rock
Notes: The only band where the main instruments are cellos (actually, probably the only one with cellos full stop). They're done various collaborations with people, even appearing on Bullet's first album.
Slashy potential: there's not much, but Eicca seems to be touchy with Perrtu.

Armor For Sleep


Bandmembers: Nash Breen (drums), Anthony Dilonno (bass), Ben Jorgenson (vocals, guitar), PJ DeCicco (guitar)
Place of origin: New Jersey, America
Genre: Rock
Notes: I met them once, I had no idea Ben was so pretty until then. They've toured with Fightstar and The Academy Is...
Slashy potential: Ben was in a Cobra Starship video with Pete... dressed as a cop. Ben likes stabbing people.

Madina Lake


Bandmembers: Nathan Leone (vocals), Mateo Camargo (guitar), Dan Torelli (drums), Matthew Leone (bass)
Place of origin: Chicago, America (although Mateo's from Columbia)
Genre: Rock
Notes: Matthew and Nathan are twins. they'rve toured with Fightstar, the Used and done loads of festivals.
Slashy potential: They seem to be really pervy and the twinsare gloriouslytouchy.

Tokio Hotel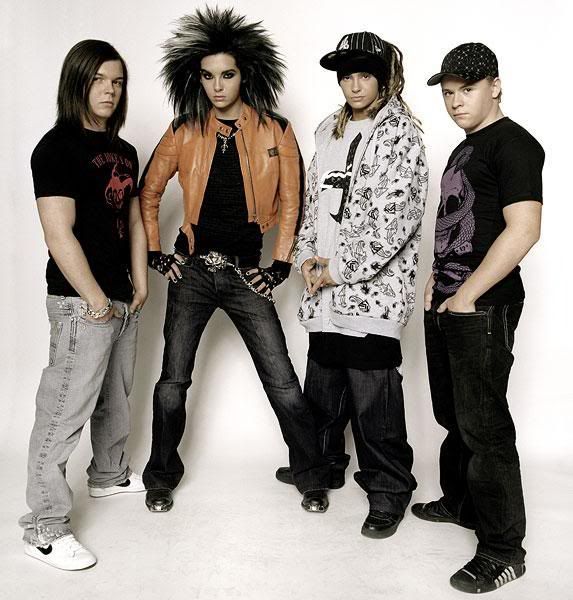 Bandmembers: Georg Listing (bass), Bill Kaultiz (vocals), Tom Kaulitz (guitar), Gustav Schäfer (drums)
Place of origin: Germany
Genre: Rock
Notes: Bill and Tom are twins (although they don't look like it). They're also German.
Slashy potential: There's plenty I'm sure.

There was gonna be others, but I couldn't find good recent pics of them so I gave up.