Anyone that hasn't please vote in poll.

Updated fic to-do list. Bold ones are ones which I'm working on now/trying to work on. Striked ones are done.

Titled fics
*End Of Days [Working title] (Jay James/Moose)
*Kerrang Tour 2008 [Just in case I have a clear idea]
*Kidnapped By The Hill Folk: Part 2 (Gerard Way/?)
*Plaything: Part 14 [Was gonna be Jay/Ray but I had an idea today] (Charlie Simpson/To be revealed)
*Prototype (Jay James/Moose)
*Scream Aim Fire (Jay James/Matt Tuck)
*Wake The Dead [undecided]

Untitled's:
*Bob Bryar/Mikey Way/Ray Toro [Possible follow-up to Love The Pain, BDSM]
*Bob Bryar/Mikey Way [Bob's drugged and raped]
*Bob Bryar/Ray Toro
*Dan Torelli/Tomo Milicevic [Rough sex and blood]
*Dan Whitesides/Bert Mccracken/Jepha Howard/Quinn Allman
*Gareth Lawerence/Sean Smith [cucumber]
*Gerard Way/Jay James/Matt Tuck/Mikey Way/Moose/Padge [Torture fic]
*Ian Watkins/Sean Smith [Maybe with someone from The Blackout, with vomit and dildos]
*Ian Watkins/Sean Smith/Others of Blackout? [Ian's idea for the video...]
*Ilan Rubin/Undecided [Might be more then one person]
*Matt Heafy/Paolo Gregoletto [Undecided yet, might have Corey too]
*Matt Tuck/Padge [BDSM]
*Mikey Way/Spencer Smith/William Beckett
*Mikey Way/Worm

Possible future ones:
*Andy Hurley/Patrick Stump/Pete Wentz [BDSM]
*Bert Mcracken/Billy Martin/Paul Thomas
*Bert Mccracken/Pete Wentz
*Bill Kaulitz/Tom Kaulitz [Something kinky]
*Ian Watkins/Oli Sykes
*Ian Watkins/undecided
*Jade Puget/Undecided
*Johnny Devine/Undecided
*Mikey Way/Spencer Smith/William Beckett
*Moose/wiL Francis
*Robb Flynn/Undecided
*Shannon Leto/Undecided [the one I ended up mentioning to Anita, through Mikey]
*Zacky Vengeance/undecided
*No pairing yet [based on The Gentle Art Of Making Enemies lyrics]
*No pairing yet [based on the bound Bullet shoot]

Mikey does it again! Love him I do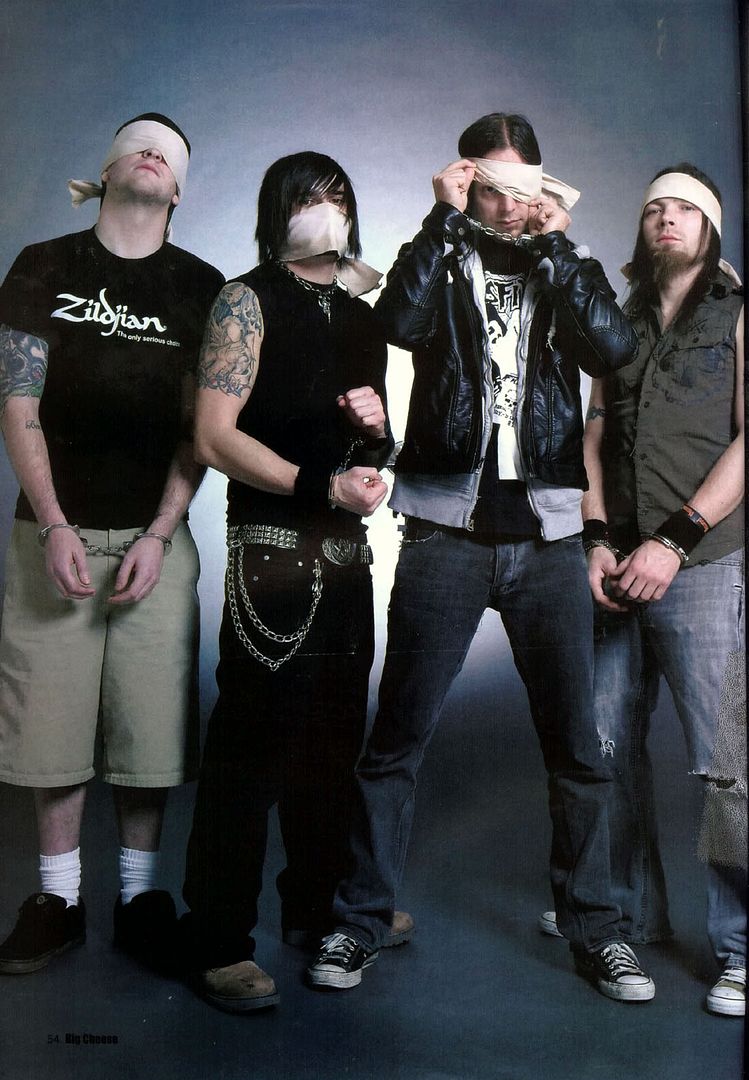 Hot no?

Edit: Can anyone get The New Regime's music? Is there a way to rip it or something?