Today was so... surreal.

It started out like an ordinary me-day. Namely, waking up at 1 and not really being very ready. However, I managed to get ready quick (namely change tee's and chuck DS into bag, though if I knew what did end up happening in advance I probably would've done other stuff too).

We took the train from Sevenoaks to Charing Cross (which is fucking expensive), then went to Camden using the underground (see above again). Camden is always a strange place. Though I've been there 3 times before, I completely forgotten the layout of the place (except where Underworld was, a location which shall always make me squee).

The venue (the Electric Ballroom) was easy to find though, literally just down the road from the tube station. Going as early as we did, we had plenty of time to wonder around, so we went first into Virgin, then down the road into the crappy music place (I forget it's name, but that's not important). When we left it I completely froze. Matt and Shannon walked RIGHT PAST us, with Jared a few steps behind and Tomo shortly behind him. I tugged on babu's shirt and she saw and it was a very OMG moment, though she mostly only seen Jared. It was so surreal seeing famous people in the world.

After a few minutes squeeing we decided to follow them, or try to anyway. About half an hour searching in the general direction they went turned up nothing (though we passed a shop with the Black Parade uniforms < 3) , we decided to make our way back (looking into every shop window we passed). On the bridge over the canal babu stopped. She saw Jared. So, acting quick, I went for the cam, but by the time I got it out, he was gone.

So, regardless we kept going, just in case we caught up with him. And, looking through the shop windows, we both spotted him in a food shop with Shannon. So we waited outside, like the serial stalkers we'd become and they came out. While Jared talked to two fans who were nearer the door, Shannon spotted us and wondered over. He offered us a bite of his tuna baquette (which we declinded so he could eat it, though he was sweet for asking) then he asked if we were going to the show. Then he poked babu's hoodie (her boob pretty much) and said 'I like that band... Bullet For My Valentine' SQUEE! Then he kinda waddled to one side as Jared approached. He asked if we were going to the show and told us to go 'fucking crazy' and we both got pictures of us. Trouble was, as soon as he came over, I was having mad nervous shakes and I was sure he felt it. WAH! It amused him apparently. Though I was just embaressed. But they were both really nice.

Then they both went off (with another 'go fucking crazy!') and we went to join the line outside the gig, after squeeing and babu getting money... and getting loadsa free stickers. We joined the mailing list, got 4 of the stickers EACH got a flyer for Klub Kerrang! (which I really wish I could go to cause The Blackout are gonna be there... I swear my love for them is becoming unhealthy... and by them I mean Sean). The wait in line was the same as always, cold, boring and spent watching hot guys and complaining about ugly old bastards asking for tickets.

Then the queue moved (in spurts) and we got inside. The venue's about the size I expected and we got a tee each (babu got a poster too, which I wish I'd got for reasons explained later). It was hard finding a place with a clear view of the stage (and we lost a clear view about 8 times during Kids In Glass Houses (the support act that are surprisingly Welsh and also quite good, as well as being hot).

After them babu got their EP (which I'll yoink later), which we looked at the sleeve back and I squeed cause they thank the Lostprophets and The Blackout welsh orgy.

Then we went to find another place to get a view and lost our view a load more times before settiling on a stairs veiw thing. Babu had a better view as I couldn't really see either Shannon or Tomo when they came on. It was an amazing show, they were brilliant. Jared makes me think more of Gerard now (he swear s madly as well as doing his younger brother). Shannon was insane on the drums < 3 Tomo kept spinning around and Jared climbed on the balcony (he seems to climb a lot doesn't he?) He stood on fans in the pit too. Babu says he stroked Tomo too, as well as make eyes at Shannon. Tomo stared at him a lot, especially when he went on his little climbing adventure.

Jared promised to 'meet every single one of us' so naturally, when the show ended, practically everyone stayed inside. And, true to his word they came out to sign stuff (ironically out the doors next to where we stood, so right past us again). They signed stuff for everyone, but the security was fuckign rude and rushing everyone (something which will probably get them fired, especially as they swore and pushed fans along). Shannon smiled at us though and Tomo was all 'thank you, thank you' and put his fist out for me to hit (I have no idea what that gesture is called). Jared was discussing with Matt putting one of the logo's on a hat but he noticed us (well, me) and said 'hope to see you at the Astoria'. I'd rather go to the Birmingham show though. Babu got her poster signed, while I got a sticker and flyer signed.

Outside, there was only one t-shirt seller, but he was already sold out by the time babu got money out. The tube journey was fairly uneventful. Apart from a being about 10 times more attractive then me looking in our direction. Once we got back to Charing Cross underground, the guy in front of us on the escalator fell backwards, almost knocking us both down it. Fortunately he regained his balance (and I caught his backpack) so he didn't send us down like dominos, but it scared babu, leaviing her shakey for awhile :(

London has lots of hot oriental guys.

There ends the day (though we needn't have bought tickets back as both lots of doors were open :/). Babu's given me an idea for a Jared/Jay fic (well, the pairing mostly, I got an idea for it). Tomo/Shannon/Jared threesome Before I waddle off to bed to sleep, here be piccies.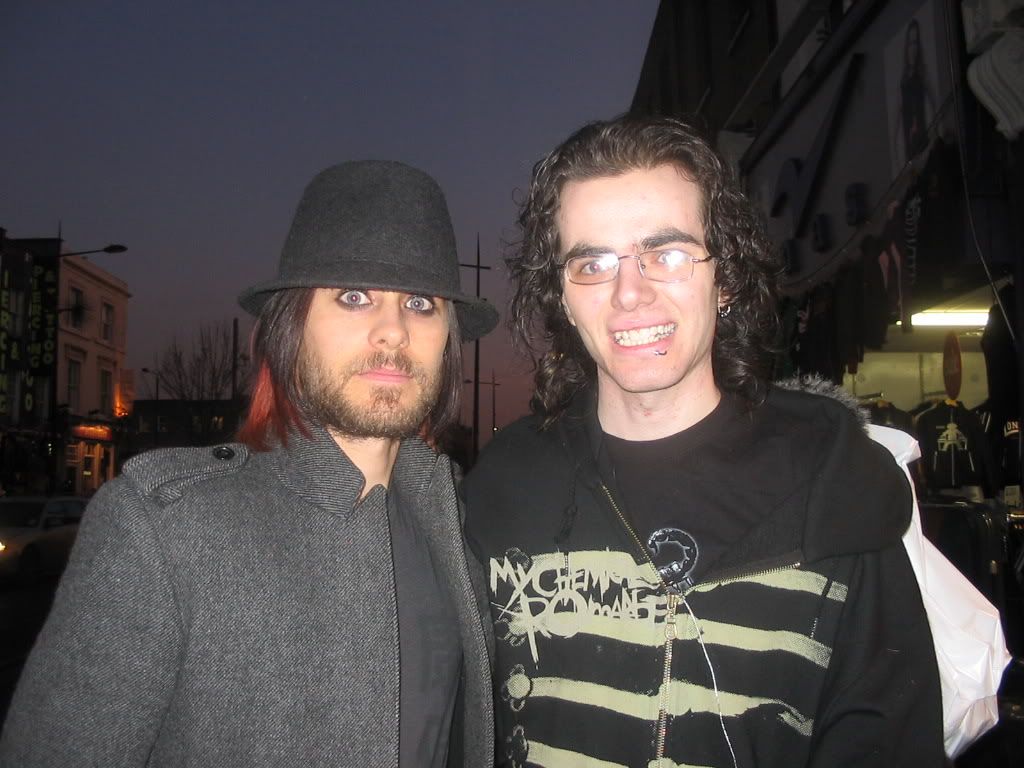 Me and Jared (ugh the facial hair) if it was a moving shot I'd be shaking like mad

antontobias86 took these pics (whose gig post is here) I yoink cause I can, you no yoinky!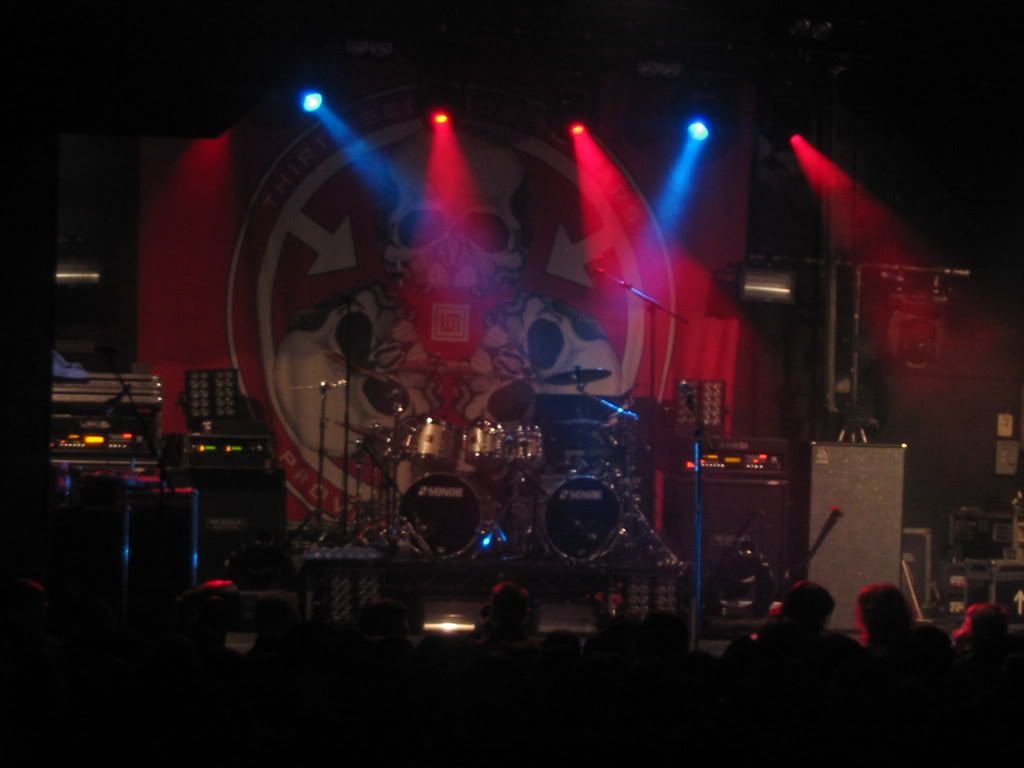 The stage


The setlist


The play list (Jared's solo was Capricorn)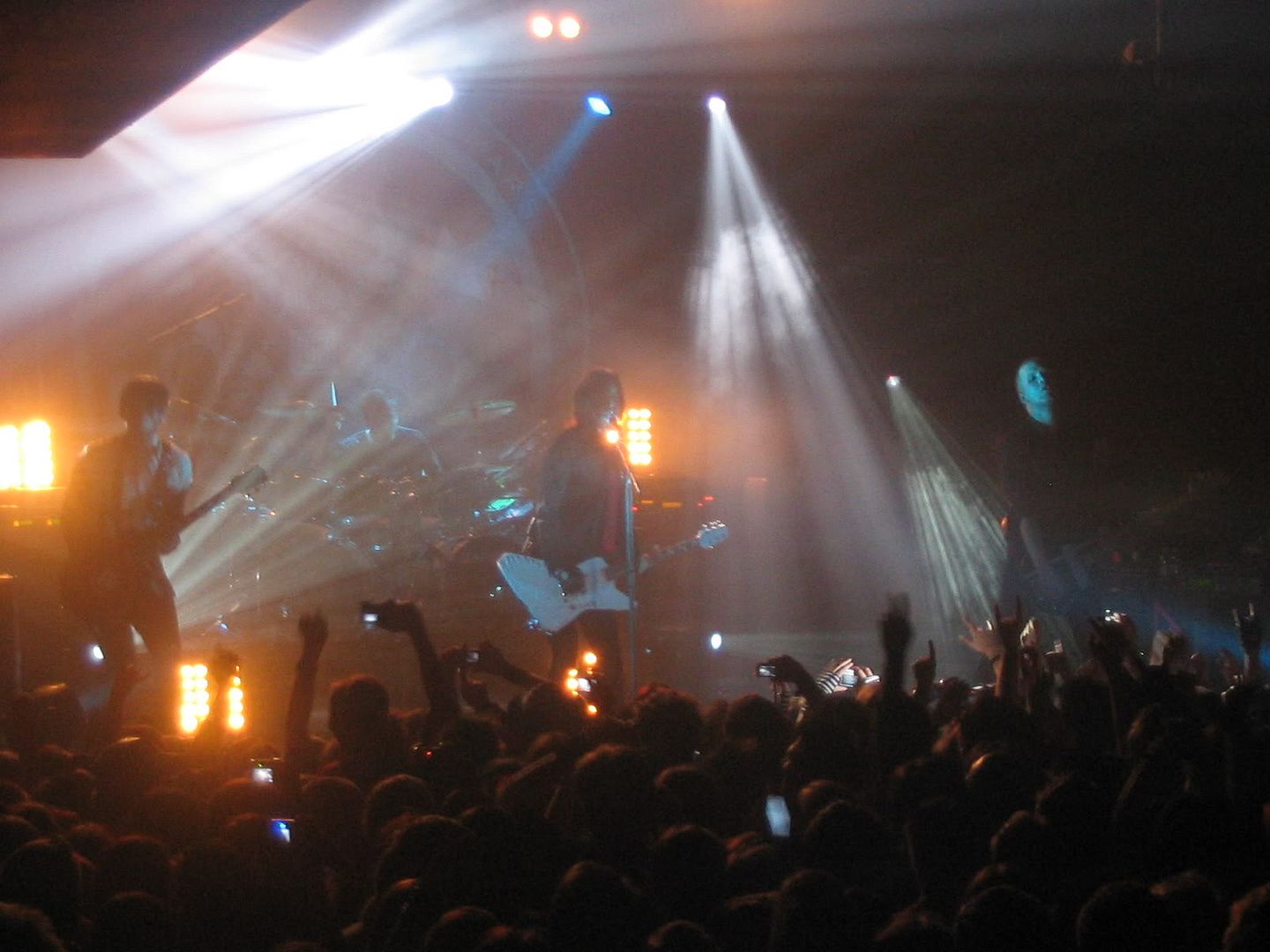 Themmmm < 3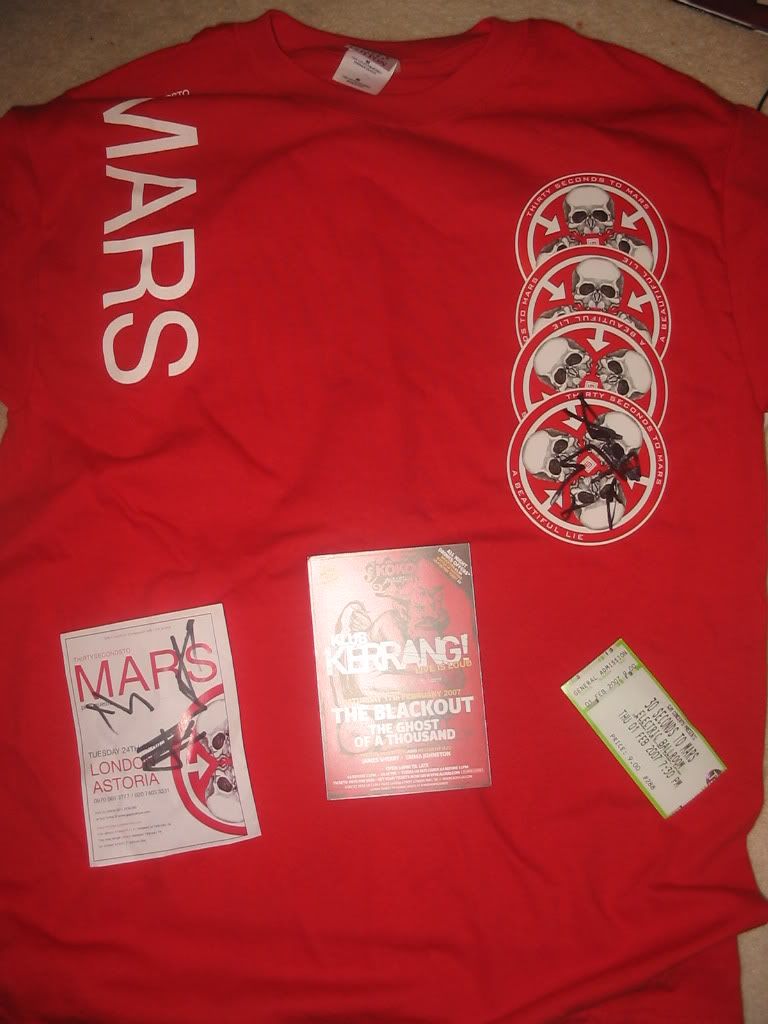 Tee, stickers, flyers


Why do I always get one missing?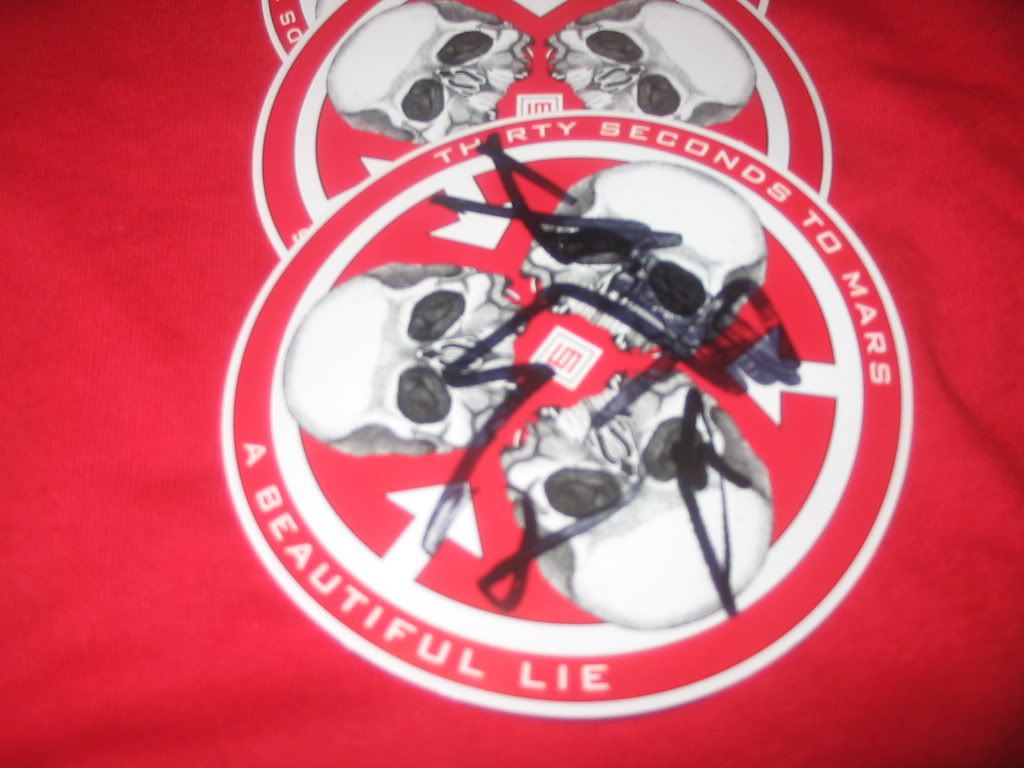 The sticker < 3 Fully signed unlike the flyer