This is gonna be a veryyyyyyy long post, with losta pics and cuts and shit so... I'd like to say sorry to
hues_of_life for not meeting her, but I'd completely forgotten what you were wearing :[


I was up at 6 on Saturday to start my trip. However, due to confusion on my part I was late for the train and missed it, so I waited half an hour for the next one. The first leg of my trip (to Birmingham) was fairly boring, but the train from Birmingham is worthy of note. It was one of those realllllly posh Virgin trains, with big comfy seats, a shop and an in-journey magazine! It was also clear that others on the train were going to GIAN too.

My baby called me when the train neared Manchester, so we talked until I found a free bus to Victoria (though the station was massive and had a Smiths and a HMV). From Victoria it was easy to find the Arena (which had this perdy park place near it) and the hotel. Stupidly, the hotel didn't allow check in till three so lotsa people had to take bags in with them.

Also, 1 in 3 of the people I seen in the city were either clearly going to the concert or asians.

The Arena is big and up A LOT of stairs. I chucked my bag in the cloak room and looked around, I found were everything was located and stuff, then went to sit down. There's like, 10 sets of toilets and 5+ bars, yet only 2 Merc stands. It's odd.

My seat was at one of the bottom rows so I had to go down more stairs.

(Bold=good bands, italics=2nd, smaller stage,striked=bands I missed)
The Blackout - I like them, they were from Wales
Gym Class Heroes - A bit crappishy
Silverstein - I liked Waterfront, but can't remember anything else
Bayside
Aiden - They were good, they played Knife Blood Nightmare and Last Sunrise and referred to us as 'children' that had to be 'kept safe', they also said wewere the larget auidence they played for ever
Classic Case - They were good
We Are Scientists - Below
Say Anything
Goldfinger - Purposely missed for a variety of reasons
Hundred Reasons - Which were rather good
Angels And Airwaves - Below
Taking Back Sunday - Below
Lostprophets - Below

The single is the only good We Are Scientists song, I didn't like the others so much. So... But I do like the lyrics to it.

I seen clones of Sonny, Dave and Simon over the weekend, (I even saw a guy I knew but couldn't place) but beyond anyone, the hottest guy wondering around the arena was Dave and Mikey's love child. He is so fucking hot. He has Mikey-style hair, Mikey-like glasses, but his hair is Dave blonde. He's just... ugh..

Just before Goldfinger I left to get merc/take pics of stuff and call my angel. I got a Lostprophets tee which is perdy (I haven't taken a pic of the back but it has two perdy red phenixes). I talked to angel (it's so good hearing her voice) then went back to seat.

Angels and Airwaves were good, I liked them and called my baby during a song. I've no idea what sogs were what (but then again, how could I when their album's not out [and there were a lot of ads for it]) They were good though, Tom kept saying how he was there 18 months ago with Blink.

Taking Back Sunday were alright, though Adam=gay! It was in the way he moved around and stuff. When the drum's malfunctioned he called them 'a delicate instrument' and rambled about them.

Lostprophets were awesomeness! They played new songs, which were great. Ian made us sing 'scream your heart out' for Rooftops. He was wearing a t-shirt that was small and showed off his stomach and his trousers kept slipping down showing his hips and gun tattoos. Guh. I kept praying they'd slide down and pool around his ankles. Alas they didn't. Ian introduced the new drummer, Alar (who looks like Ray) and said 'I taught him his hand work'. Ian's hair is hot. Mmmmm... I'd see them again.

Getting out was easish. Went to the cloakroom, which was good I went there first cause after I got my bag the line was 6 times it's length! There were no signing areas anywhere (annoyingly).

I went out the train station exit, got a Lostprophets poster and 2 free cds. On the way back to the hotel I found a large lot of outdoor sellers where I got 3 posters (2 MCR and a Panic! even though they weren't playing that day...) and an MCR and Panic! teee. Oddly there were Bullet tees there too, even though they weren't playing either day.

My baby called on my way back, so I talked to her lotsss. In the hotel I downed a drink as I waited by the line before entering and getting my key card and headed to my room. It was a nice room with a big bed but the phone and tv were weird. I slept after talking to angel.

So Day 2 arrived and I was up at like 9:30 to shower, get dressed and talk to angel. Then I went out, searched for Mcdonalds and found an Argos. It was while I was eating (my quarter ponder that they put nothing on so it was blah) that I realised two things:
1: My I-Pod could record
2: The stalker guy that I kept seeing and recognising was Adam (a really hot guy who used to work at the supermarket we shopped at)

So I went down to Argos and got a mic for £7 and then went to the Arena.

Taint - From Wales... another Welsh band
The Honorary Title
The Bled
Paramore - Which were alright and the first band I recorded, although the singer did sing 'You're a regular decorated emergency' which got screams
Underoath - A bit.. eh, but I recorded them and there was slashiness
Drive By
Panic! At The Disco - Below
Men, Women And Children - I didn't mean to miss em!
Thrice
Billy Talent
Atreyu - Below
The Ataris
My Chemical Romance - Below

Before I go into the day, I'd like to say things that the bands repeated. Most mentioned Manchester (mostly by saying Hi Manchester how you doin? or words like that). About half mentioned how hot/pretty/good looking we were. Most (especially the littler bands) mentioned how it was the largest crowd they'd ever played for. Most bands name-dropped the bands either side of them and the bigger bands that were on later.

I went to the merch booth right away. The MCR hoodie was like mine but with white letters, so I didn't get it but I got a white tee with bleeding roses (it's perdy). There was a weird, but nice looking Atreyu one and only one Panic! There was also MCR ties. (but I only got the one tee [and a badge set], I shoulda got the tie).

I sat down and the day began again.

And so I skip straight through to Panic! They were awesome and it was really strange how practically everyone (like most of the thousands there) actually sung along. It really is a testament to how well they've done here in such a short time (the only other band that got more of the crowd singing was MCR). Ryan was so cute and hot and Brendon said fucking slut instead of whore! When they tour next, I'm definately going to see them. It's amazing that Brendon played keyboard and sung too (well, I found it amazing).

I tried to record Panic!, but at the end of the set, when I went to stop it my pod had died so I have no idea if it even saved (though it probably didn't :() so I don't have MCR recorded either. I shoulda charged the pod up overnight but I didn't think to. :(

Then I looked at my guide thing and hated London. London, and only London, has signing booths! Bastards.

By this time I was thirsty, so I went off to get a drink. I looked at the merch stalls and most of the tee's (the Panic! and the Atreyu one) had gone! I managed to get the last of one MCR tee but the tie's had gone :(.

I then leaned against the wall to check my phone and drink and that's when.. Daikey came right in front of me and stood there for minutes! Guh he's hotter up close. His smile=sex. I learned his name was Nathan. A sign maybe?

Once he was gone I went back to my seat.

Atryu were good, they played Lip Gloss And Black and Her Portrait In Black. I hoped they'd play the latter but wasn't expecting them too. They even name dropped Underworld Evolution cause it was on the soundtrack. The drummer is really talented cause he sings and drums at the same time. Also, the main singer called the drummer hot. I have no idea on their names though.

After The Ataris' everyone was hyped for MCR. From First To Last's video played which is abstract and cool. When MCR's banner thing came up everyone screamed. Even when just My Chemical Romance was visible we screamed.

When the lights went low everyone went crazy. Everyone was on their feet and everyone sung to every song.

The tracklist (roughly):
Thank You For The Venom
Cemetery Drive
Deathwish
Jetset
Our Lady of Sorrows
The Ghost Of You
To The End
Interlude
Give 'Em Hell Kid
Romance
Prison
Helena
I'm Not Okay (I Promise)

No new stuff sadly, though Gerard did say that it would make your face melt every time you heard it. Another weird thing, that I noticed right away Daikey's glasses were Mikey like.. until I saw Mikey wearing EXACTLY THE SAME PAIR!

They were brilliant as always.

Now MCR slash things:
*Mikey, with his eyes glued to Gerard's ass at every opotunity (but he's done that at every single MCR gig I've been too)
*Gerard's hand by his ass a lot..
*Not really slashy but Gerard got us to say 'fuck' and 'kill'
*Again not slashy, but Gerard said Manchester was 'Like New Jersey'
*Gerard saying 'I'm a dirty boy'
*Gerard saying 'I'm a bad boy.. spank me! Spank me!' (No word of a fucking lie he really said that!)
*Gerard's simulating a blow job to the mic
*Frankie on his knees
*Gerard asking someone to be mosh pit commander... and guys taking their tops off to impress him (which of course they did)
I swear, the slash writes itself.

Gerard also read out all of the band's names including Panic! Which made squee inside. He got us to put our lighters/phones up for Ghost Of Youu (sadly my phone was dead so..).

Dreamysigh I love seeing them, it's so amazing how he gets the crowd into a frenzy. I could see them forever and not get bored.

I went out as quick as I could to see if I could see anyone. I got one MCR poster, an MCR hoody and a Panic! hoody < 3

I then found the bus area.

So I waited in the cold for about an hour before I heard squealing. So I, along with other people, ran to where the squealing was. Now there was bus under a bridge and it was a few meters away from the Arena exit gate so everyone was crowding around it to see who it was. It was Panic!! They ran right past and I got a pic of them! Perdy Ryan. Perdy Brendon. We murdered Panic!'s songs while the bus was still there.

I stayed for another hour, (in which time a lot of freight trucks went in and out) up until the last bus left, but no one else came (though Panic! had pizza!). There was a girl that sounded just like Rose which=oddness. People believed there was a conspiracy cause only one bus was left at the end. Sigh.

I got back to the hotel and was so wired I looked at the tv. I even looked at the porn and found a gay one called Office Boy Virgins which sounded guhsome. But alass, I couldn't watch :(

The last it took ages for me to fully wake up. So at 10, I got up, dressed, packed and left the hotel.

By half 10 I was roaming the streets.

I went into two HMV's, one where I got an MCR poster, Panic!'s cd single and Dance, Dance dvd, the other where I got Panic!'s LP singles.

Then, at 12, I went to Selfridges, and ate at Yo! Sushi, which is perhaps the bestest place to eat. I spent £10 there on sushi (and a drink). Mmmm twas very yummeh. It's the best sushi. I had avacardo and yoshiko ones, and one cucumber.

The trip to the train station was fairly boring, though I seen an odd parade that, from what I could gather, was about keeping asylum seekers in the country. To be honest, I'm for keeping them. People just assume they're bad, but some really need help. Especially the gay ones (I know some have been sent back to places where they've been sent to certain death which is wrong on so many levels.

Anyway... So I arrived at the station, got Metal Hammer, two Pepsi's and some Galaxy from Smith's, then got The Making Of Revenge Of The Sith from HMV for only £5.99 (it was £15) and Battle Royale Special Edition for £12.99 (I've seen it at £20+). The Making Of Revenge Of The Sith is so cool and perdyfuls!

I took two trains and was home at 5ish, so there endeth the adventure

I took photos of the stage, but they look crappeh :(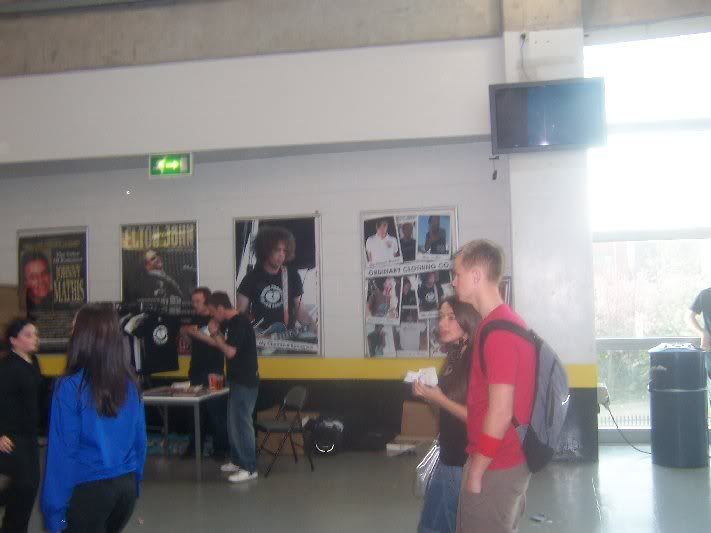 A booth thing at the arena, note the Ray and Frankie pics of them wearing their stuff!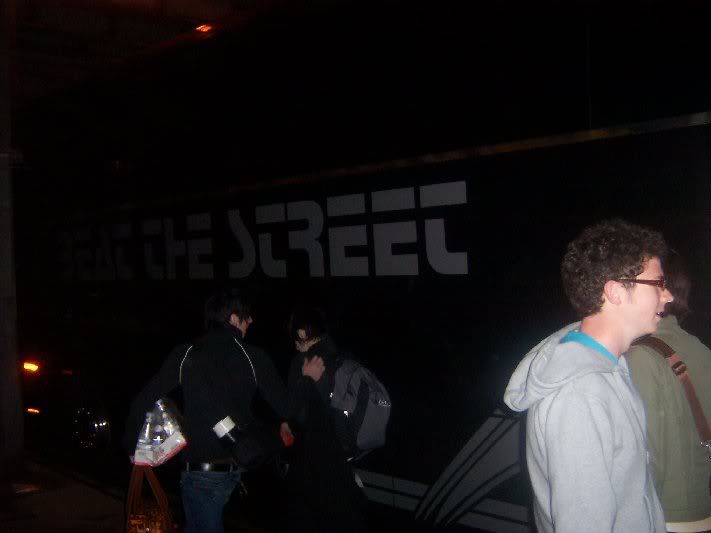 Ryan/Brendon awwness! Note how the bus' window's are tinted:(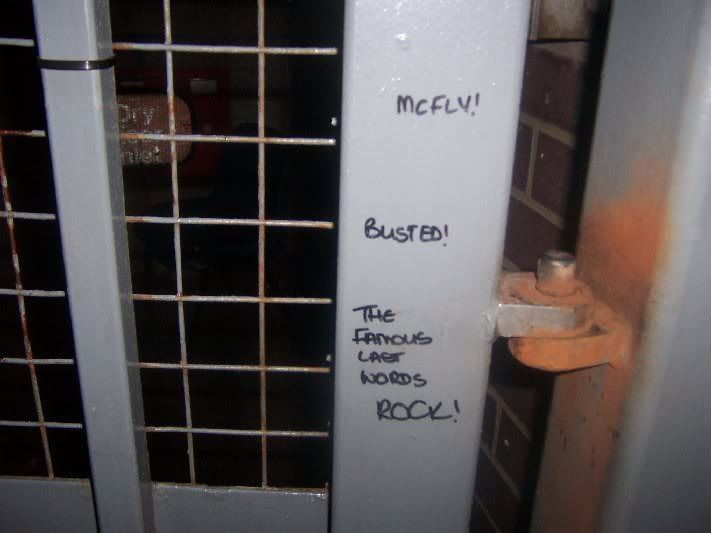 On the gate Panic! went though! EE!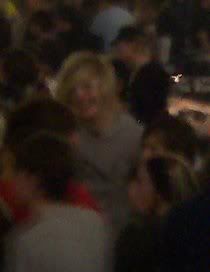 The infamous and perdy Daikey!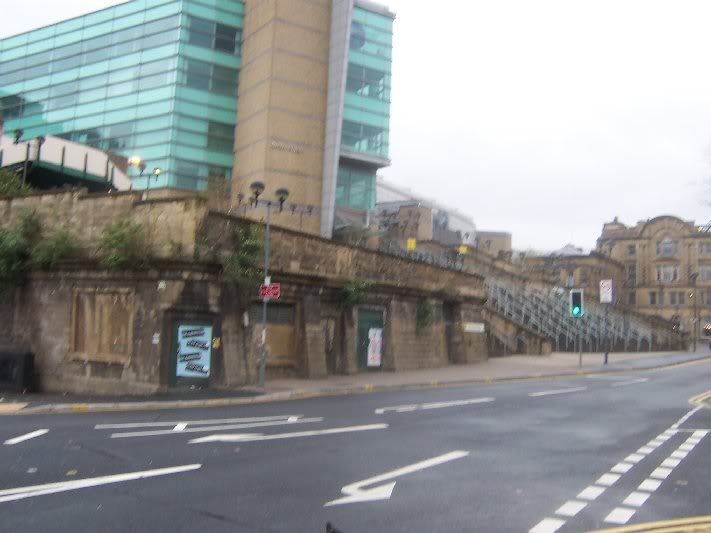 The Arena- Side view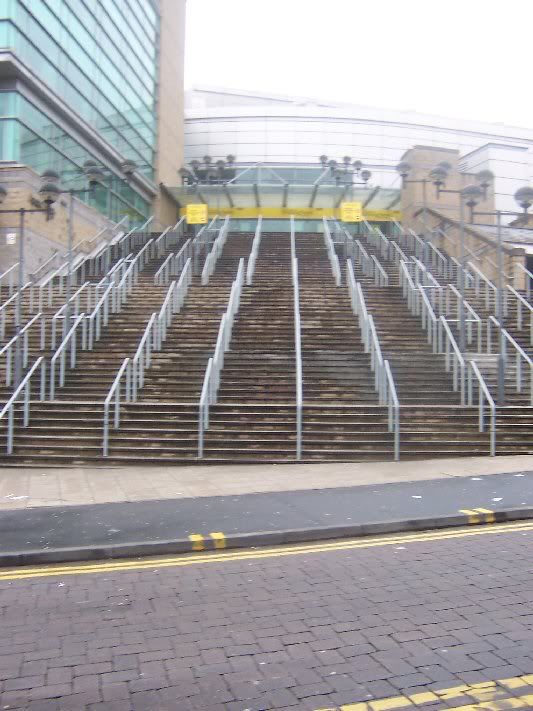 So many fucking steps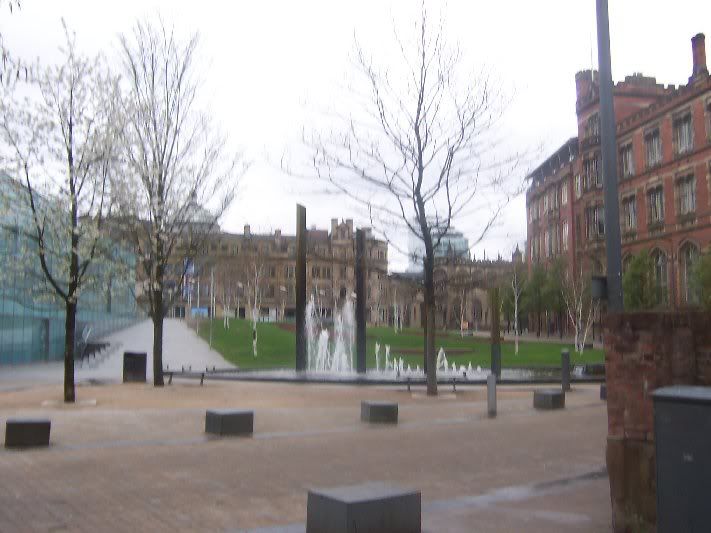 The fountain


The Wheel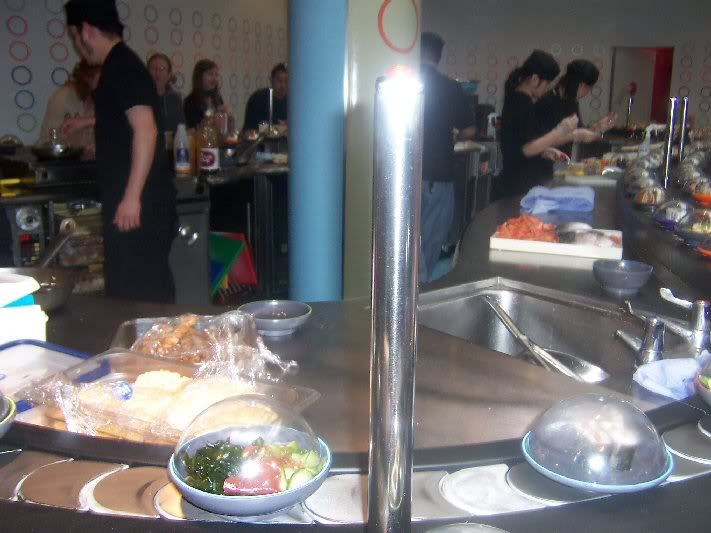 Yo! Sushi!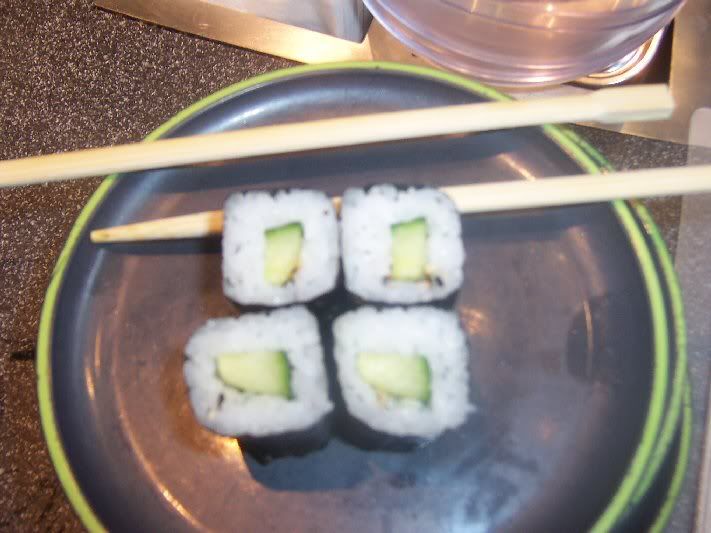 Cucumber maki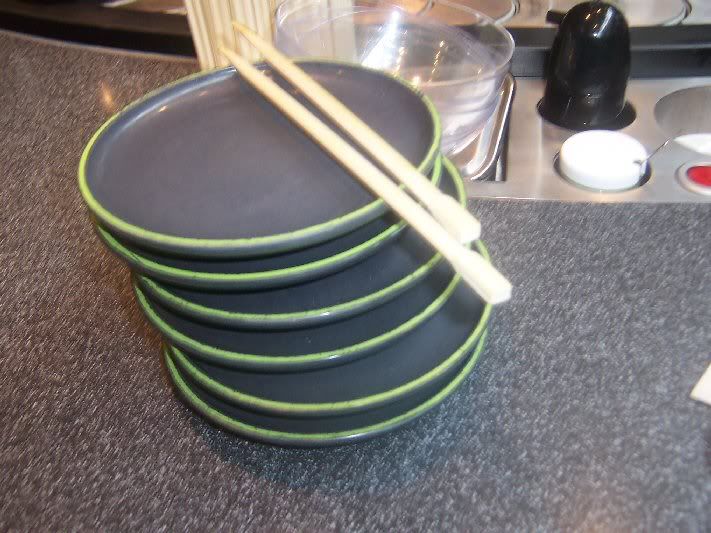 All done!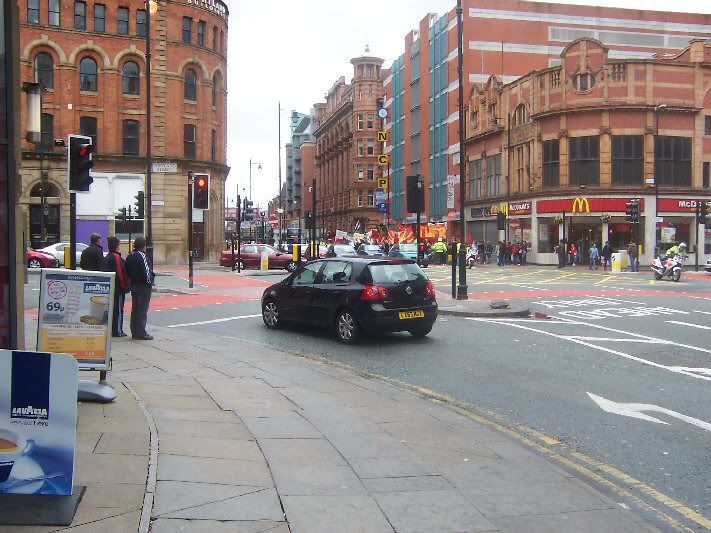 The Flag Parade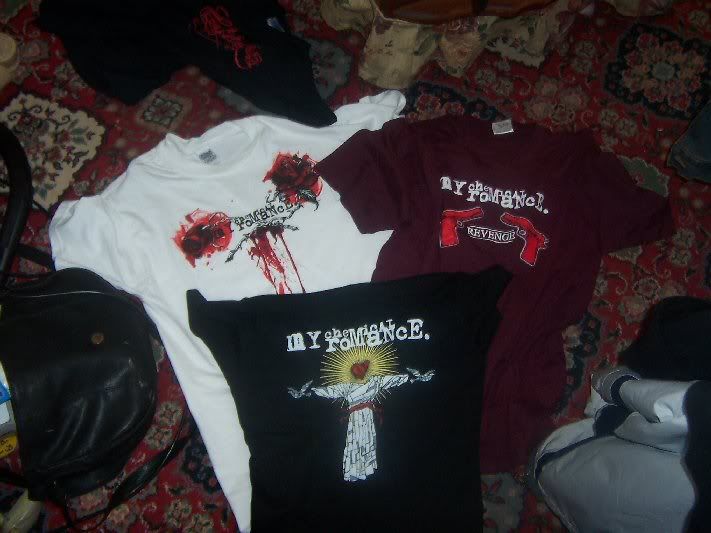 My three MCR tees: Bleeding Roses (from Day 2), Revenge (from Day 1, the back has the last tour dates) and heart head (The last one there was)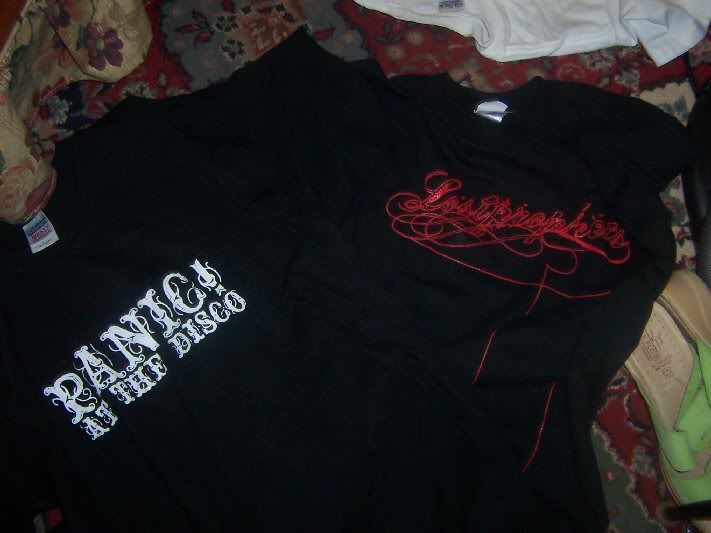 Panic! (from Day 1, the back has the Panic! tour dates) and Lostprophets (also from day 1, the back has a pair of phoenix) tee's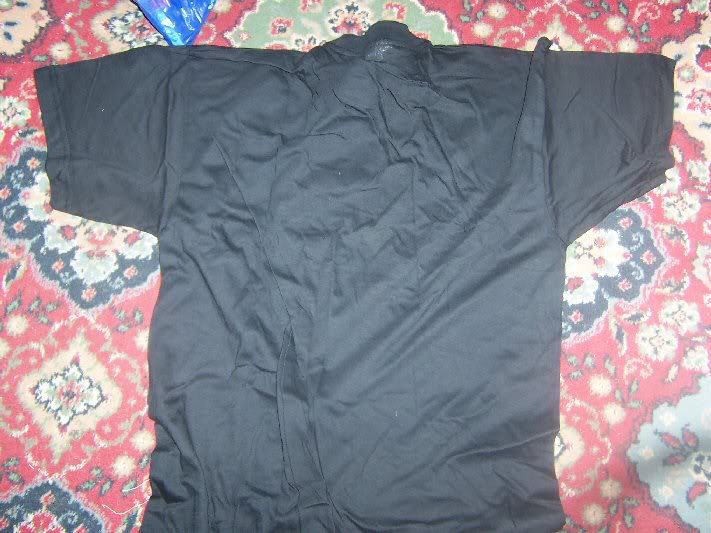 The back of the tee for my angel ;)
Hoodies from day 2...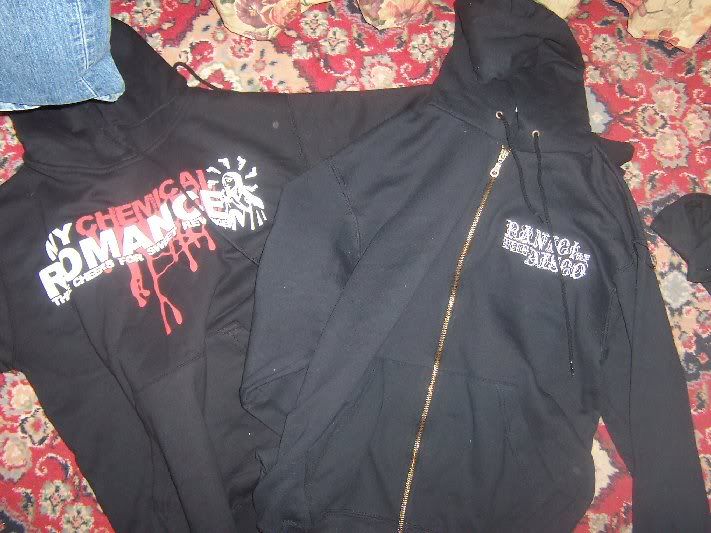 Front..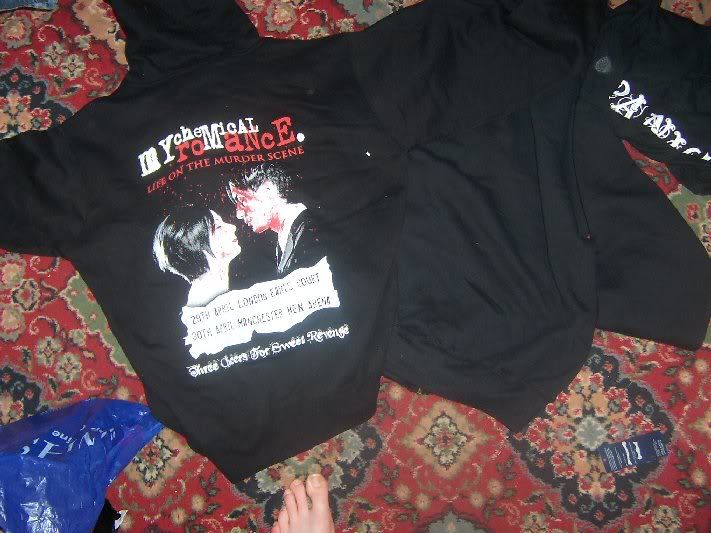 And back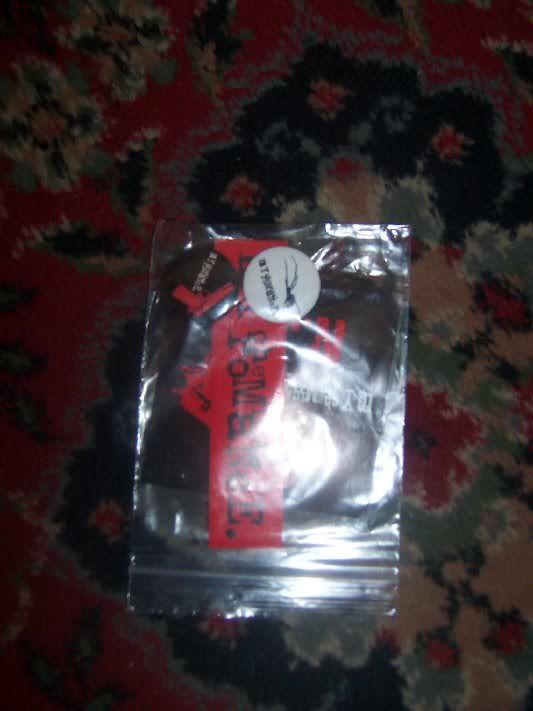 The badge set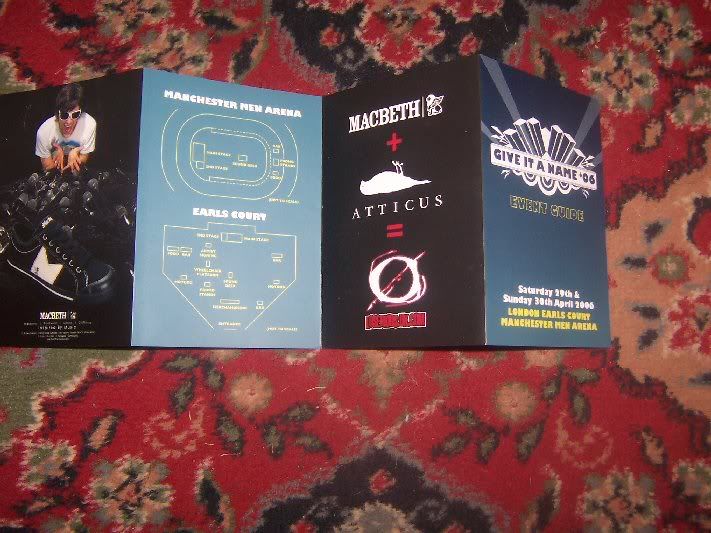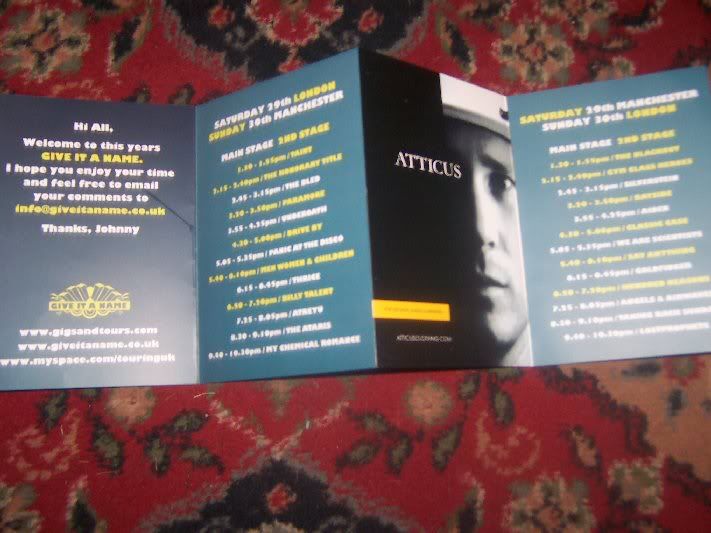 Teh guide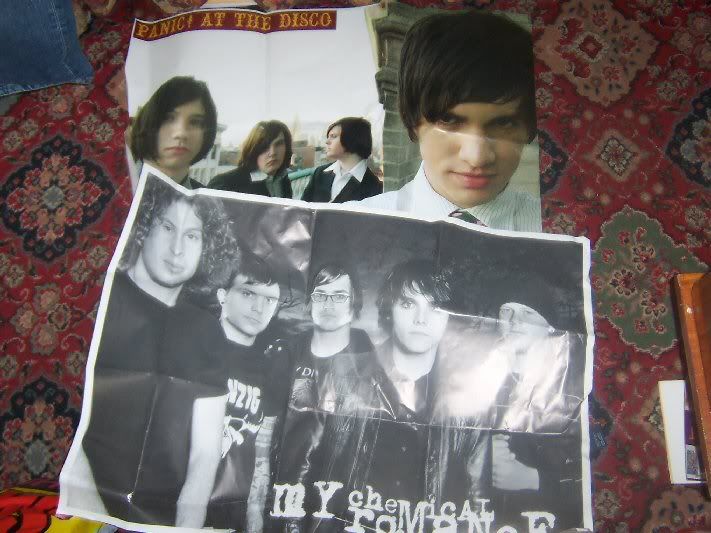 Panic! poster (from Day 1), MCR poster (from Day 2)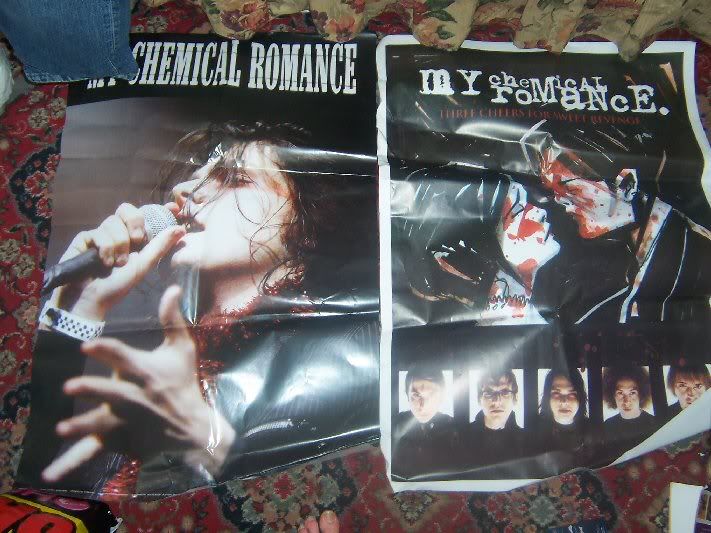 Gerard poster and Revenge art poster (both from day 1)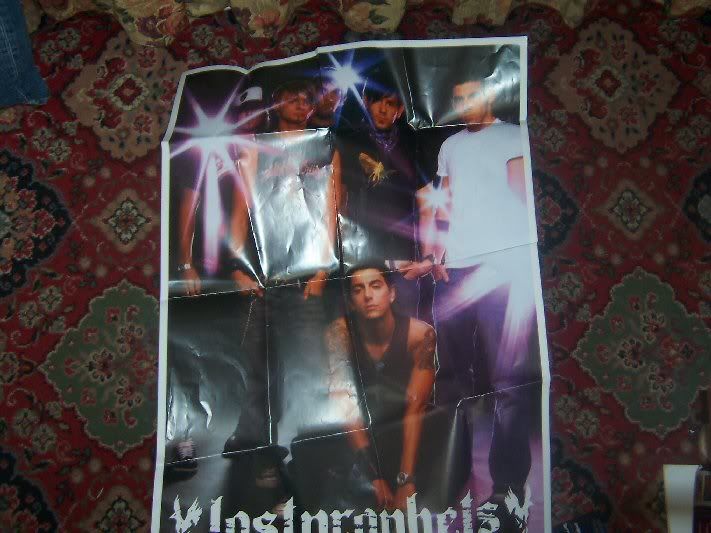 Lostprophets poster
Free cds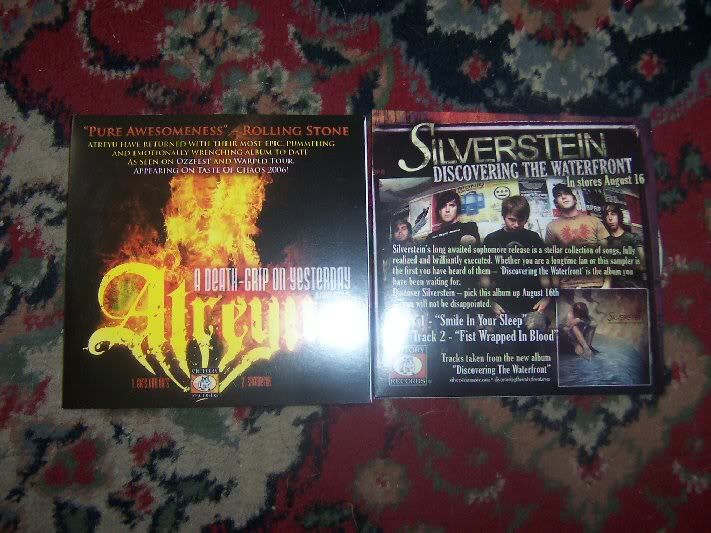 Front...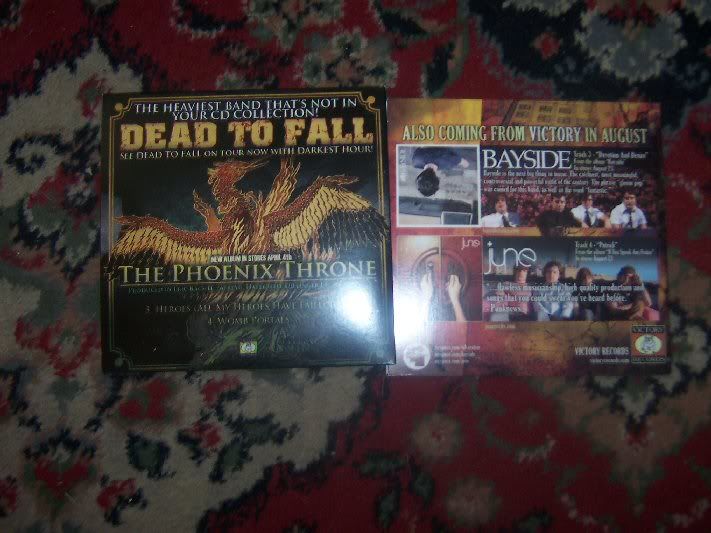 And back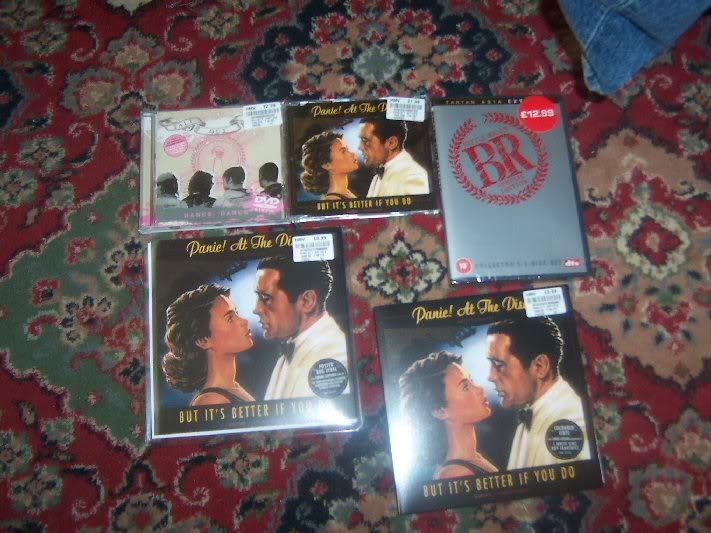 Panic! Singles, Fall Out Boy single and Battle Royale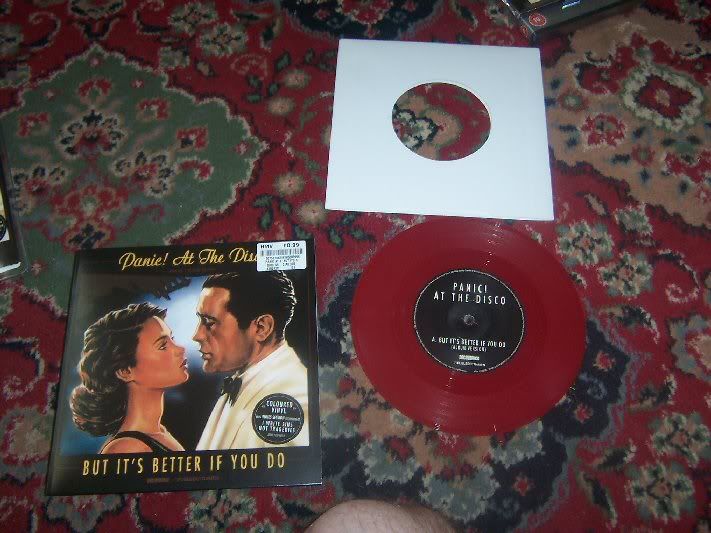 Panic! coloured vinyl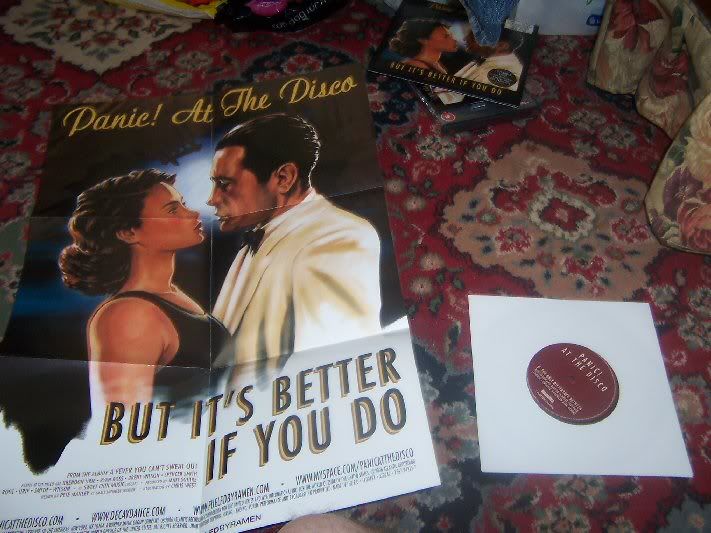 Panic! single with poster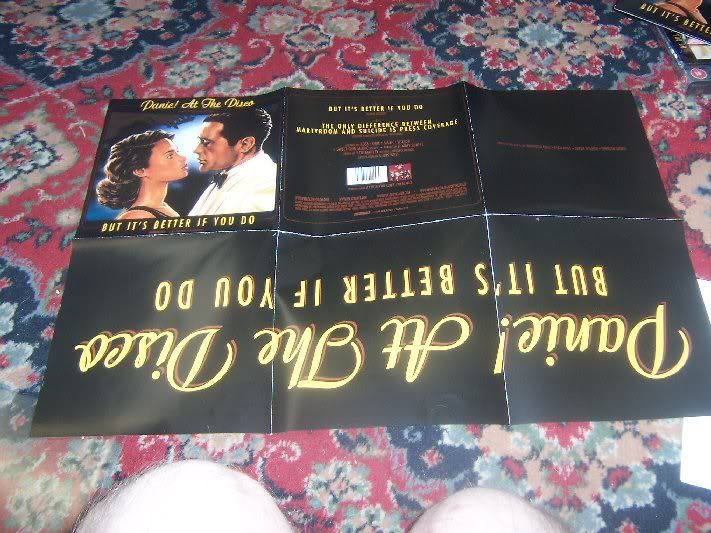 Other side of poster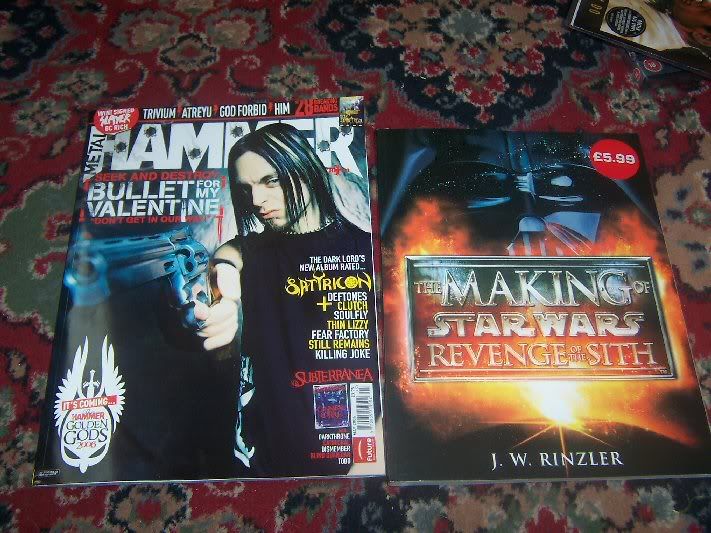 Metal hammer (guh Matt with gun) and Making Of Revenge Of The Sith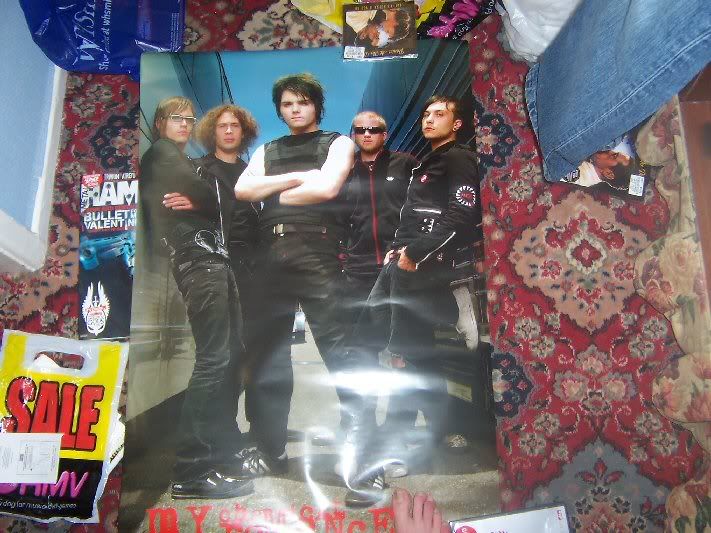 MCR poster Mikey's crotch!

And last, but not least, something very special..

http://www.youtube.com/v/x7XbP6DD2cY

Edit: Bollocks, it didn't embed like it did on GJ so...